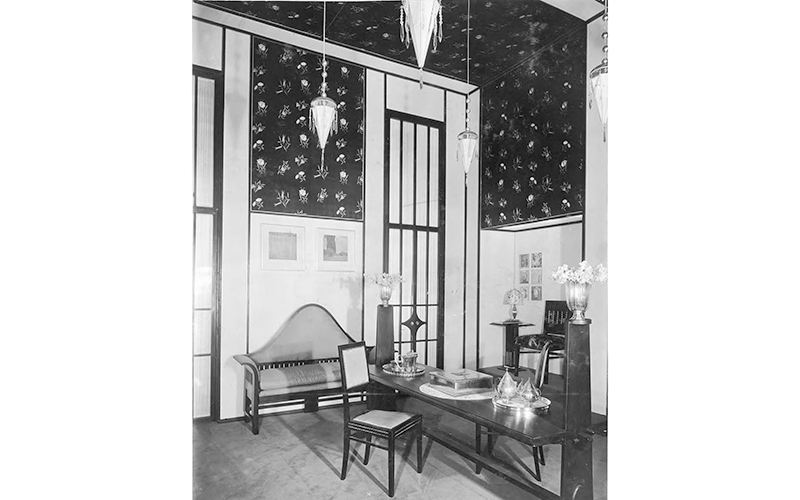 Showroom, Wiener Werkstätte of America, New York, designed by Joseph Urban, 1922.MAK – Museum of Applied Arts, Vienna
---
Transcript
Hello, my name is Emily Holtrop. I am the director of learning and interpretation at the museum.  I will be reading the Wiener Werkstätte of America section in Unlocking an Art Deco Bedroom by Joseph Urban.
Joseph Urban's influential Wiener Werkstätte showroom opened in New York City in 1922 and played a key role in introducing Viennese modernism to American audiences and designers. The Wiener Werkstätte (Vienna Workshop) was a collaboration of artists established in 1903 and led by architect and designer Josef Hoffmann. Werkstätte designs ranged from ceramics, fashion, and silver to furniture and graphic arts—all designed to reflect the modern era.
Urban created an immersive experience for visitors to his Fifth Avenue Wiener Werkstätte of America showroom. Arranging the space into a series of rooms or settings, complete with floor and wall treatments and furniture—most of his own design—he illustrated how the Werkstätte's modern works could be incorporated into a home. In addition to pieces by Werkstätte designers, Urban exhibited paintings by Austrian modernists Gustav Klimt and Egon Schiele. Most of the ceramics and metalworks featured in this section were sold through Urban's shop.
Intrigue about these fresh Viennese designs was high when Urban opened the showroom, but sales failed to take off. Forced to close the enterprise in just over a year, Urban nearly went bankrupt. Some attribute the failure of Urban's venture to its being ahead of its time. Others cite the downturn of the economy in 1920 and 1921, or the anti-German
sentiments that lingered after World War I. Select objects in the Wormser Bedroom, such as the ceramic head created by Vally Wieselthier, may have been sourced from the showroom's leftover inventory.
---