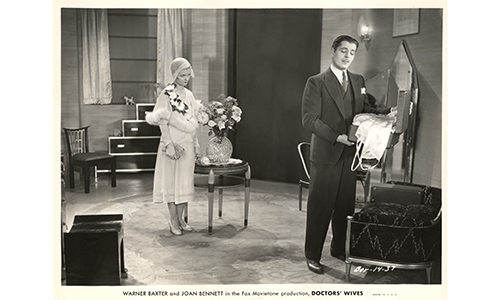 Film still of Joseph Urban's set for Doctors' Wives (1931). Fox/Photofest
---
Transcript
Hello, my name is Emily Holtrop. I am the director of learning and interpretation at the museum. I will be reading the Ziegfeld Follies and Film section in Unlocking an Art Deco Bedroom by Joseph Urban.
The Ziegfeld Follies became a symbol of the 1920s. First produced by Florenz Ziegfeld in 1907, the revue, featuring elaborate costumes and choreographed numbers, was modeled after the Paris Folies Bergere. Each year, a new edition of the Follies debuted on Broadway, then toured various cities, including Chicago (Ziegfeld's hometown).
In 1915, Ziegfeld hired Joseph Urban to bring a new sophistication to his productions. Though some chided Urban for becoming involved in such "frivolous entertainment," he understood the power of the popular show and its potential to introduce his talent and design ideals to the masses. Each edition featured as many as twenty numbers and required about twelve full stage sets. Urban created these for every edition through 1931.
In 1920, Joseph Urban became art director for William Randolph Hearst's Cosmopolitan Pictures. This new pursuit placed his set designs before the eyes of millions across the country. By 1929, American movie theaters averaged eighty million visitors per week. When possible, Urban injected his sets with the modernist style. Film critics cite his sets for "Enchantment" (1921) as the first to incorporate modern décor in American film. A variation of Urban's design for Elaine Wormser's occasional table appeared in "Doctors' Wives" (1931), starring Joan Bennett and Warner Baxter.
---