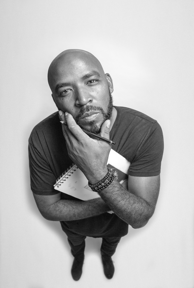 Gee Horton is a Cincinnati-based self-trained Hyperrealist visual artist who has recently transitioned from a career in the corporate world to focus primarily on making art and building communities. Using graphite and charcoal pencils, Gee's drawings capture a heightened sense of realism, but it is important to note that the Hyperrealist style is only one facet of comprehending his work. Having earned a master's in social work from the University of Louisville, he often incorporates his education and life experiences into his art to achieve a kind of power that for many triggers emotional associations. With this in mind, his current work makes a connection between his African roots and their juxtaposition to American attitudes on the social and emotional development of the African American male experience.
Gee is currently working on a series of work entitled Coming of Age. In collaboration with photographer Jason Carter, the series is autobiographical and offers a complex multilayered conversation about black-male adolescence and their search for identity, acceptance, purpose, and love. Expect to see this prolific collection Coming of Age to debut in 2021, which will be his first gallery showing to the Cincinnati community.
Gee has been drawing for the last three years and has been featured in local art exhibits and media publications. He is currently serving as the Mercantile Library's first African American Artist-in-Residence. He has been commissioned to draw a 6-foot portrait of Peter H. Clark, the Mercantile Library's first African American member. Gee played a major role in the Black Art Speaks collective to paint the Black Lives Matter! mural in front of Cincinnati's City Hall. His contribution in the Black Lives Matter mural is the "L" in "Lives", using text from the renowned African American poet Langston Hughes' 1926 poem, "I, Too". Gee currently serves on the Board of Trustees for Artworks, WavePool, and is a Co-Host of the Urban Consulate Cincinnati Chapter.
You can also find some of Gee's artwork at BlaCk Coffee Lounge, located downtown Cincinnati at 824 Elm Street.
Submitted September 2020