Art After Dark At Home: Frank Duveneck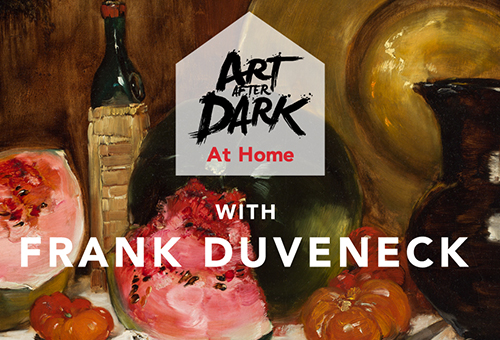 Friday, January 29, 2021 at 5–9 p.m.
This is a virtual event.
Follow us on social media to join the fun. Free.
Spend the night with Frank & friends!
The Cincinnati Art Museum is celebrating the new year and new special exhibitions with an "at home" version of Art After Dark.
During the virtual event, guests will enjoy a series of exclusive video premieres, including a cocktail tutorial from Molly Wellmann, local music from Indie Pop quartet The Ophelias, a performance from local dance group Pones celebrating artwork by Anila Quayyum Agha, and a curator-led virtual walkthrough of special exhibition Frank Duveneck: American Master.
5 p.m.: Happy hour! Pour a glass of whatever you have on hand—we highly recommend making Molly Wellmann's Duveneck-inspired "Foucar à la Kin-kan."* Purchase your own ingredients or pick up a take-home kit from Japp's–since 1879 which includes ingredients for one drink. Beer lovers are encouraged to purchase a four-pack of our recent collaboration with Listermann Brewing Company. The limited-edition release includes four different bottle labels that feature famous works by Duveneck.
6 p.m.: Let's dance! Local dance group Pones is getting the party started with a virtual performance in the All the Flowers Are for Me Pause, reflect, and move to this immersive installation now open through May 30.
7 p.m.: Virtual tour! Join Curator Dr. Julie Aronson for a never-before-seen virtual walkthrough of Frank Duveneck: American Master now open through March 28.
8 p.m.: Local music! Enjoy a one-hour performance from local Indie Pop quartet The Ophelias. Start a watch-party with friends and share the love for Cincinnati arts.
Videos will also be available to view on YouTube
Select playlist Art After Dark
*"FOUCAR À LA KIN-KAN" BY MOLLY WELLMANN
Ingredients:
1.5 oz bourbon
.25 oz Triple Sec
.5 oz sherry
Dash of orange bitters
Stir all ingredients with ice, strain and serve. Garnish with an orange peel.
It's said that Frank Duveneck was a regular visitor to Foucar's Café, which opened in downtown Cincinnati in 1902. Duveneck's artwork hung on its walls.
Add to Calendar