Opening Celebration: "Something Over Something Else" Romare Bearden's Profile Series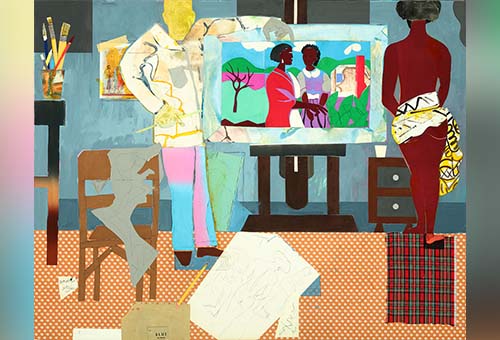 Thursday, February 27, 2020 at 5–7:30 p.m.
Join us as we celebrate the opening of an exhibition that reunites 30 vibrant collages from Romare Bearden's autobiographical series for the first time since its debut nearly 40 years ago.
Enjoy light refreshments and music in the Great Hall.
LECTURE WITH THE CURATORS
Thursday, February 27, 7 p.m. | Fath Auditorium
Explore Bearden's acclaimed Profile Series with the exhibition curators:
Stephanie Heydt, Margaret and Terry Stent Curator of American Art, High Museum of Art
Robert G. O'Meally, Zora Neale Hurston Professor of English and Comparative Literature, Columbia University
Learn more about the lecture
Free. Seating is first come, first served. No reservations required.
This exhibition is organized by the High Museum of Art, Atlanta. This project is supported in part by an award from the National Endowment for the Arts. Additional support is provided by the Andrew Wyeth Foundation for American Art.
Image: Romare Bearden (1911–1988), United States, Profile/Part II, The Thirties: Artist with Painting and Model, 1981, collage on fiberboard, High Museum of Art, Atlanta, purchase with funds from Alfred Austell Thornton in memory of Leila Austell Thornton and Albert Edward Thornton, Sr., and Sarah Miller Venable and William Hoyt Venable, Margaret and Terry Stent Endowment for the Acquisition of American Art, David C. Driskell African American Art Acquisition Fund, and individual donors, 2014.66. © 2019 Romare Bearden Foundation/VAGA at Artists Rights Society (ARS), NY
Add to Calendar