Dance as Destiny: A Feminist Reconsideration of the Indian Danseuse in her Many Forms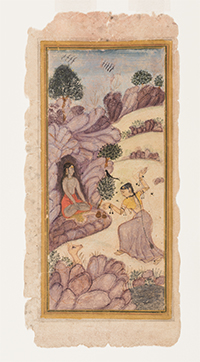 Thursday, November 10, 2022 at 7 p.m.
Free for Members. Reservations Encouraged.
Join Dr. Mrinalini Rajagopalan, Associate Professor and Chair, Department of History of Art and Architecture at the University of Pittsburgh, for this exciting evening lecture.
In 1926 British colonial archaeologists found a bronze statue depicting a woman in Mohenjodaro (now Pakistan). Small enough to fit in the palm of a hand and made close to 4000 years ago, the figure wears only jewelry and sports an elaborate hairdo. Perhaps it was her posture: one arm akimbo resting on her waist and leg bent at the knee, that led the male archaeologists to dub her the Dancing Girl. Since then, archaeologists, curators, and art historians have suggested that she could just as easily represent a female warrior, laborer, or devotee. Yet, the sculpture continues to be displayed at the National Museum, New Delhi as Dancing Girl.
From Indus-era bronzes, to Bollywood films depicting Mughal courtesans, to ill-fated efforts to outlaw urban "dance bars", the figure of the danseuse is ever present over four millennia of Indian history. Revered as a goddess, reviled as a seductress, empowered as creative actors, disenfranchised as social pariahs, the Indian female dancer reflects her nation's preoccupations with sexuality and gendered expectations. This presentation offers a critical and creative rethinking of female dancers in Indian art as more than passive receptacles of male desire or predictable ciphers of femininity. How might we deploy a rich corpus of sculptures, paintings, photographs, and films to rethink the Indian dancer as savvy politician, prolific litterateur, or radical activist? Nearly one hundred years after the Indus bronze was found by male colonialists, it is time to reconsider both her infantilizing moniker of "dancing girl" and the predictable destinies to which she and others Indian dancers have been doomed.
Bio
Mrinalini Rajagopalan is Associate Professor and Chair, Department of History of Art and Architecture at the University of Pittsburgh. She is an architectural and urban historian of modern and contemporary India. She is currently working on a book titled Marks She Made: The Art and Architecture of Begum Samru, 1803-1836. Her book Building Histories: The Archival and Affective Lives of Five Monuments in Modern Delhi (University of Chicago Press, 2016) won the 2018 Annual Alice Davis Hitchcock Award presented by the Society of Architectural Historians for the most distinguished book in the field.
---
If you need accessibility accommodations for this program or event, please email [email protected]. Please contact us at least two weeks in advance to ensure accommodations can be made.
Add to Calendar
Purchase Tickets