*POSTPONED* Horror Film Fest: Haunted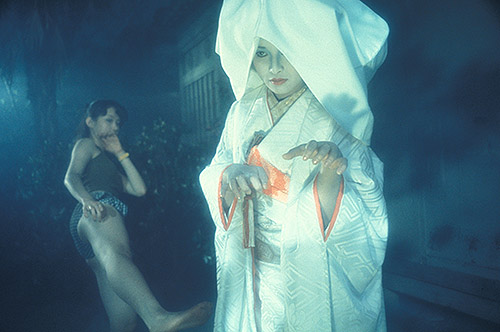 Friday, October 15, 2021 at 7:30 PM
This event has been canceled for inclement weather. We will reschedule an indoor screening in 2022, stay tuned for future updates.
---
House
Directed by Nobuhiko Obayashi, 1977, 87 minutes. Japanese with English subtitles.   
How to describe Nobuhiko Obayashi's 1977 movie House? As a psychedelic ghost tale? A stream-of-consciousness bedtime story? An episode of Scooby Doo as directed by Dario Argento? Any of the above will do for this hallucinatory head trip about a schoolgirl who travels with six classmates to her ailing aunt's creaky country home, only to come face to face with evil spirits, bloodthirsty pianos, and a demonic housecat. Too absurd to be genuinely terrifying, yet too nightmarish to be merely comic, House seems like it was beamed to Earth from another planet. Or perhaps the mind of a child: the director fashioned the script after the eccentric musings of his eleven-year-old daughter, then employed all the tricks in his analog arsenal (mattes, animation, and collage) to make them a visually astonishing, raucous reality.  
Carnival of Souls
Directed by Herk Harvey, 1962, 78 minutes. English with subtitles for deaf and hard of hearing.  

A young woman (Candace Hilligoss) in a small Kansas town survives a drag race accident, then agrees to take a job as a church organist in Salt Lake City. En route, she is haunted by a bizarre apparition that compels her toward an abandoned lakeside pavilion. Made by industrial filmmakers on a small budget, the eerily effective B-movie classic Carnival of Souls was intended to have "the look of a Bergman and the feel of a Cocteau"—and, with its strikingly used locations and spooky organ score, it succeeds. Herk Harvey's macabre masterpiece gained a cult following on late-night television and continues to inspire filmmakers today.  
*This event is outdoors in the CAM parking lot, near the top of Art Climb. In the event of rain/severe weather, this event will be canceled.*
---
If you need accessibility accommodations for this event, please email [email protected]. Please contact us at least two weeks in advance to ensure accommodations can be made. 
Add to Calendar