Kentucky Renaissance: The Lexington Camera Club and Its Community, 1954–1974
October 8, 2016 – January 1, 2017
Gallery 232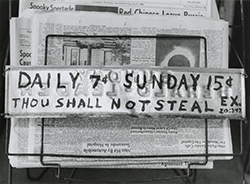 The Cincinnati Art Museum is organizing a major exhibition of photographs, prints, books, and other artworks made in Lexington, Kentucky, during the third quarter of the 20th century. The Lexington Camera Club, an organization devoted to the art and craft of photography, anchors the exhibition. This exhibition is the Art Museum's signal presentation for the FotoFocus 2016 Biennial, a region-wide celebration of photography.
This exhibition is generously supported by:

Header Image: Cranston Ritchie, Untitled [Hands on Rock] (detail), ca. 1956–61. Gelatin silver print, 7 x 9 in. (17.8 x 22.9 cm). University of Louisville Libraries Special Collections. Thumbnail Image: Van Deren Coke, Thou Shalt Not Steal, 1963. Gelatin silver print, 6 1/16 x 8 1/4 in. (15.4 x 21 cm). The Art Museum at the University of Kentucky, Lexington.