Over the past few months it's been difficult for me to contain my excitement over the CAM's summer exhibition, Northern Baroque Splendor (on view through September 20, 2015). If you haven't yet had a chance to see the show, you should probably get here before it closes. There's a reason this period is referred to as the Dutch Golden Age – this stuff is pure gold…encompassing everything from tantalizing food, luscious flowers, and adorable puppies to music-making, drinking booze and general revelry. Baroque artists throw one heck of a party for your eyes, in both the special exhibition and our permanent collection galleries.
Still Lifes: Flowers & Feasts
During the 17th century, Holland and the Low Countries started trading like maniacs and raking in the dough, allowing more people than ever to reap the benefits (hello, middle class!). Since the church and aristocracy were no longer the only ones commissioning art, thing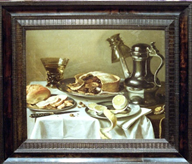 s got much more colorful. The middle class allowed Dutch artists to explore new genres of art such as still lifes and genre scenes.
Long before the days of obsessively Instagramming meals, Baroque patrons instead commissioned full-blown paintings of their cuisine (now that's dedication). Still lifes such as this one by Pieter Claesz in Gallery 205 allowed artists to practice the depiction of rich texture and precision of lighting techniques. The resulting works were exquisitely detailed, a hyperrealistic portrayal that would give birth to the trompe l'oeil technique popular in the 19th century.
Many items were included as status symbols – such as expensive shellfish and the lemons pictured here. In Northern Baroque Splendor, you'll see many animal carcasses included in food still lifes, indicative of both hunting trophies and symbols of vanitas (the Baroque preoccupation with death and the transient nature of material goods).
Similarly, Maria van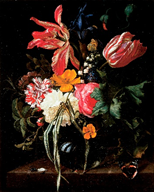 Oosterwijck's Floral Still Life in Gallery 208 is ripe with symbolism. Although the flowers are depicted realistically, the variety shown would have bloomed at different times of year, thus an exercise in more visual trickery. Most prominently, the tulip was a symbol of Dutch national pride and the "tulip mania" of the day. The flower had recently been imported to the Netherlands from Turkey, and people were going out of their minds to get their hands on the posh petals.
Portraiture
If you're familiar with Renaissance art, you may have noticed an artistic tendency to
depict children as miniature, creepier versions of adults (affectionately known as homunculi). My favorite Tumblr page, Ugly Renaissance Babies  (warning: adult language), documents this well. Luckily, artists in the 17th century finally realized that babies in real life are typically much more adorable. Frans Hals' Portrait of a Dutch Family in Gallery 205 is an excellent example of the round, rosy cheeks which seem to breathe a new life into its subjects.
In Northern Baroque Splendor, check out The Shy Little Hunter (Portrait of a Young Boy Holding a Plover) by Aelbert Cuyp, where even a child holding a dead animal still makes your heart hum, "d'awww!"
Music & Merriment
 As with any proper shindig, music and booze are essential to the Baroque party atmosphere. A new focus on genre scenes allowed the Dutch to depict the beauty in everyday settings. Gerard ter Borch the Younger's The Music Party (located in Gallery 205), provides an almost voyeuristic look into one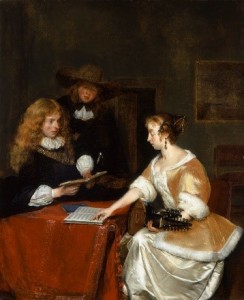 a musical gathering, one of the few places where young gents & ladies were able to interact with one another.  While entrusted to behave with moral virtue, these young folks were well aware that music was a "stimulator of passions." Once you get past this guy's luscious locks of hair, check out the come hither look he's giving to the beauty across the table; although her disinterested reaction indicates he could step up his game a bit. Please see Unsatisfied Women in Art History for more incredible shade being thrown (again, adult language included). His friend in the background doesn't seem to be aware he's the wingman in a 17th century courting operation.
Music was also seen as a symbol of vanitas – its transience being that it only existed in the moment it was being played (well before YouTube and Spotify allowed you to tune in on-demand). Depictions of music allowed viewers to embrace the notes long after they had faded from the room.
Baroque artists are my kind of people – they like pretty things with a hint of morbidity and having a good time. When you leave Northern Baroque Splendor don't think of your glass as empty, but instead think yourself as drunk with artistic inspiration. Franz van Mieris would approve.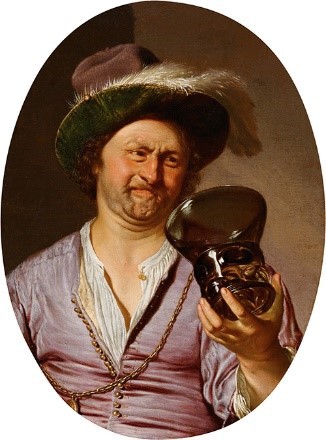 Image Credit:
Pieter Claesz (Dutch, b.1597-1598, d.1661); Still Life (Ontbijtstuk with Berckemeyer)(1641); oil on canvas; Mr. and Mrs. Harry S. Leyman Endowment and Bequest of Mr. and Mrs. Walter J. Wichgar; 1987.151
Maria van Oosterwijck (Dutch, b.1630, d.1693); Flower Still Life (1669); oil on canvas; Bequest of Mrs. L.W. Scott Alter; 1988.150
Frans Hals (Dutch, b.Circa 1581-Circa 1585, d.1666); Portrait of a Dutch Family (mid 1630s); oil on canvas; Bequest of Mary M. Emery; 1927.399
Gerard ter Borch (Dutch, b.1617, d.1681); The Music Party (circa 1675); oil on oak panel; Bequest of Mary M. Emery; 1927.421
Franz van Mieris (Dutch, b.1635, d.1681), Self-Portrait as a Merry Toper, 1673, oil on panel, HOHENBUCHAU COLLECTION, on Permanent Loan to LIECHTENSTEIN. The Princely Collections, Vienna, HB 16