This week in Objects Conservation: This beautiful 12th C Mina'i ceramic bowl is in the lab being conserved. Like many similar ceramic pieces, this was conserved in the past using an animal glue that has now deteriorated. The glaze on this object is crackled and has become unstable.  It is at risk of detaching from the ceramic body.
In order to stabilize the piece, the deteriorated animal glue is softened and removed in a humidity chamber, seen in this photo. The humidity chamber allows the joins to slowly release, causing limited stress to the glaze and ceramic body.
The surface of each fragment will be carefully cleaned.  Then the surface will be consolidated, or treated with adhesive, to prevent loss of the unstable glaze.
The bowl now exists in over 85 fragments, some of which are incredibly small! Reassembly will start under the microscope with the smallest fragments and build up to the larger pieces. The entire reassembly will likely take several days to complete.
Catch this newly stabilized object back on display in the Islamic galleries later this year!
Humidity chamber: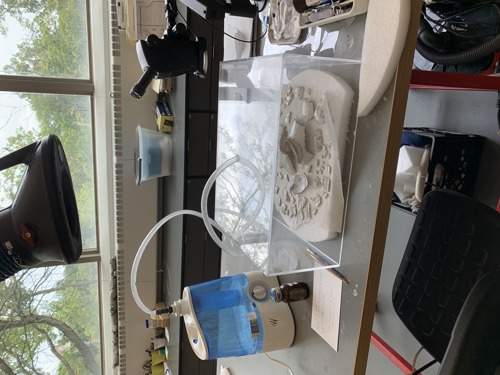 Deconstructed bowl after humidification: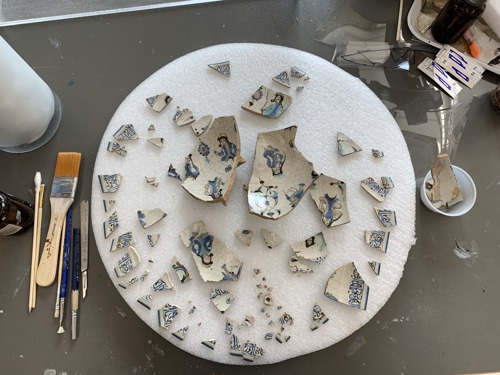 Bowl Decorated with Seated Figures, late 12th century - early 13th century, Iran, Seljuk period, ceramic with polychrome enamels over white glaze and colors, Given in honor of Mr. and Mrs. Charles F. Williams by their children, 1948.109