We've come a long way on the treatment of the Elizabeth Hawes flag dress! If you've been following our blog, you know this important political statement by American fashion designer Elizabeth Hawes has been undergoing extensive conservation treatment in the textile conservation lab over the course of several years, and much like peeking through the Cut in the Hill on your way home to Cincinnati after a long trip, we are very nearly home on this "journey" around the world.
The treated silk flags have all been reattached to the dress and there're just some minor details to finish up. In this before-and-after-treatment pair, it's easy to pick out some big differences.
One of the biggest changes, the reappearance of the Polish flag right in the center of the skirt, is thanks to some modern innovations in textile conservation! Our textile conservator worked with a company called Dye-Namix, Inc., that creates digital designs and prints them on fabric. They used the remaining fragments of the Polish flag (literally a few shreds of fabric and fragments of one side of the eagle's wing) to recreate art as close as possible to Elizabeth Hawes' Polish flag, matched to the original drawing style and colors. The original fragments will be retained in storage while this recreation on silk fabric similar to the original takes us one step closer to being able to see the Flag Dress as Hawes intended.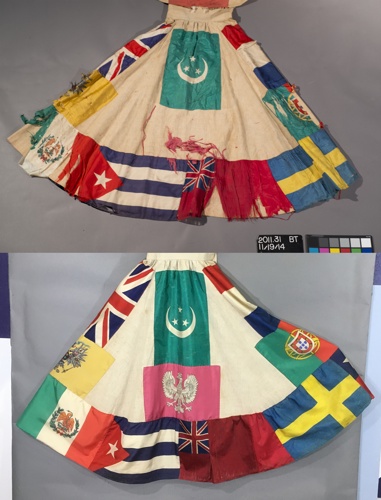 Elizabeth Hawes (American, b.1903, d.1971), designer, Flag Dress, cotton, silk, Museum Purchase: Fashion Arts Purchase Fund, 2011.31.
Enjoy other blog entries about the Hawes dress:
Behind the Scenes in Conservation: Bath time, August 26, 2021
Behind the Scenes in Conservation: Game, set, MATCH! April 8, 2021
Behind the Scenes in Conservation: Brazilian Flag, October 20, 2016