Our paintings conservator has started to clean the varnish from this painting by Edmund Tarbell.  A wide vertical strip along the right side has already been cleaned with solvents, the varnish and grime solubilized and removed. 
The painting was part of a very large bequest to the museum in 1915 by famed artist, Frank Duveneck.  An inscription in the upper right corner shows that the painting was a gift from one artist to another.  It says "TO DUVENECK / TARBELL". 
Interestingly, the inscription is not painted on the background, but is actually scratched into the paint.  The white of the letters is the white preparatory gesso underneath the paint. 
There would be no way remove or cover such an inscription at a later date.  So, though Duveneck's bequest in 1915 was largely comprised of his own paintings, there would be no question that this work was painted by Edmund Tarbell.
See works by Duveneck in special exhibition Frank Duveneck: American Master now on view through March 28, 2021.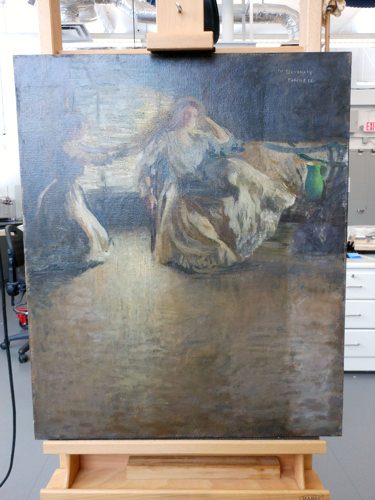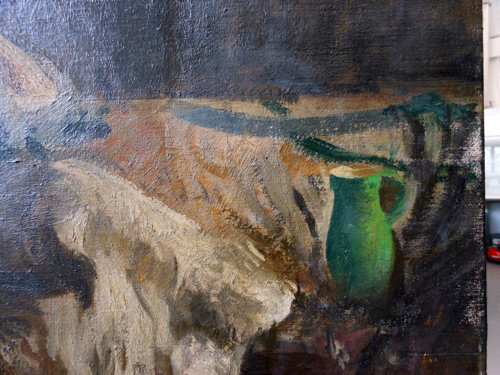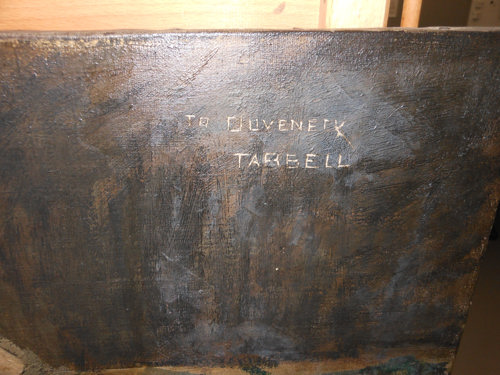 Edmund Tarbell (American, b. 1862, d. 1938,) Interior, Circa 1900, oil on canvas, Gift of Frank Duveneck, 1915.326