The Russian workshops of Peter Carl Fabergé (1846–1920) are most readily identified with the imaginative and exquisitely-crafted Easter eggs that they produced for the Tsar's
family. But, they also produced many other delicate and bejeweled novelties, such as boxes, cigarette cases, picture frames, and animals. 
The Art Museum owns almost 20 works by the House of Fabergé. Of these, seven are small stone animals.  Fabergé's animals are either highly naturalistic or whimsical in design. Some were created as "portraits" of pets owned by Fabergé's clients.
Many more pieces were made for sale on the open market. Although his shop sold these stone animals beginning in the early 1890s, Fabergé did not have a stone-working facility until 1908. This means that much of the carving was done elsewhere and finished at the Fabergé workshop. Although not directly produced by Fabergé's stone carvers, Fabergé did approve the sale of these animals under his name, thus they are generally considered part of his body of work.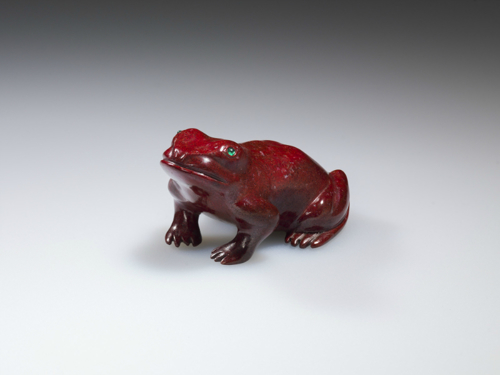 It is known that Fabergé and his craftsmen carefully selected stones to take full advantage of their unique properties. Note that the purpurine Frog was polished to such a degree that the hard stone captures the look of the amphibian's soft, moist skin. The stone of the Hippopotamus was oriented so that the light is caught and reflected in a way that mirrors the leathery, slippery flesh of a wet hippo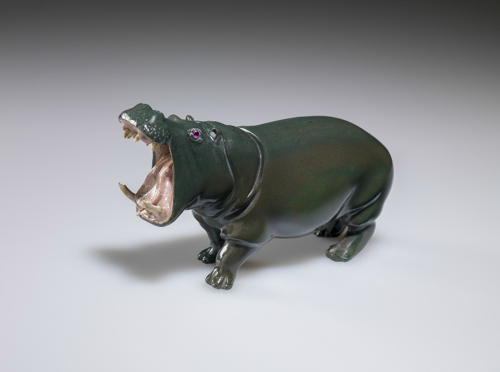 Most of Fabergé's animals were not signed, leaving scholars to debate their authenticity. Famous in his own lifetime, Fabergé influenced many of his contemporaries in Russia an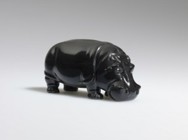 d abroad. Many pieces, either forgeries or well-intentioned creations inspired by Fabergé, have been sold as works by the House of Fabergé. At first glance, these works seem very similar to those by Fabergé, but closer inspection reveals some subtle, but important, differences. When viewed next to authentic Fabergé pieces, works by imitators serve to emphasize the quality of Fabergé's craftsmanship and, as demonstrated in his animals, the vivid personalities conveyed in Fabergé subjects.  Animals by Fabergé imitators, have less fire, less spunk.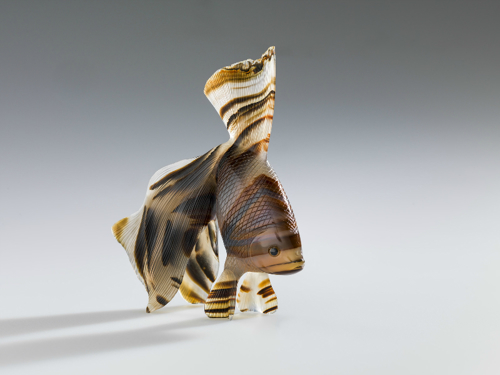 Image credit lines:

Snail, circa 1900, House of Peter Carl Fabergé (1846–1920), St. Petersburg, Russia, nephrite, diamond, 2 3/16 x 4 13/16 x 1 5/8 in. (5.5 x 12.3 x 4.1 cm), Cincinnati Art Museum, The Bayard Livingston Kilgour, Jr. and Katie Gray Kilgour Collection of Icons, and Other Russian objects, 2000.84
Chick, circa 1900, House of Peter Carl Fabergé (1846–1920), St. Petersburg, Russia, agate, amethyst, silver gilt and diamond, 2 5/16 x 2 1/4 x 1 5/16 in. (5.8 x 5.7 x 3.4 cm), Cincinnati Art Museum, The Bayard Livingston Kilgour, Jr. and Katie Gray Kilgour Collection of Icons, and Other Russian objects, 2000.82
Frog, circa 1900, House of Peter Carl Fabergé (1846–1920), St. Petersburg, Russia, purpurine and emeralds, 1 3/8 x 1 7/8 x 2 1/2 in. (3.5 x 4.8 x 6.4 cm), Cincinnati Art Museum, The Bayard Livingston Kilgour, Jr. and Katie Gray Kilgour Collection of Icons, and Other Russian objects, 2000.105
Hippopotamus, circa 1900, House of Peter Carl Fabergé (1846–1920), St. Petersburg, Russia, 1 15/16 x 3 3/4 x 1 3/4 in. (4.9 x 9.5 x 4.4 cm), Cincinnati Art Museum, The Bayard Livingston Kilgour, Jr. and Katie Gray Kilgour Collection of Icons, and Other Russian objects, 2000.83
Hippopotamus, circa 1900, House of Peter Carl Fabergé (1846–1920), St. Petersburg, Russia, Kalgan jasper, rubies, 3 7/16 x 6 x 2 3/8 in. (8.8 x 15.2 x 6 cm), Cincinnati Art Museum, The Bayard Livingston Kilgour, Jr. and Katie Gray Kilgour Collection of Icons, and Other Russian objects, 2000.88
Goldfish, circa 1900, House of Peter Carl Fabergé (1846–1920), St. Petersburg, Russia, agate, 4 5/8 x 4 1/8 x 1 1/2 in. (11.7 x 10.5 x 3.8 cm), Cincinnati Art Museum, The Bayard Livingston Kilgour, Jr. and Katie Gray Kilgour Collection of Icons, and Other Russian objects, 2000.104