Conservation on View: Swabs, Swabs and more Swabs!
by Conservation
3/17/2016
conservation , behind the scenes , paintings , paintings conservation , Zaragoza , in the galleries , exhibitions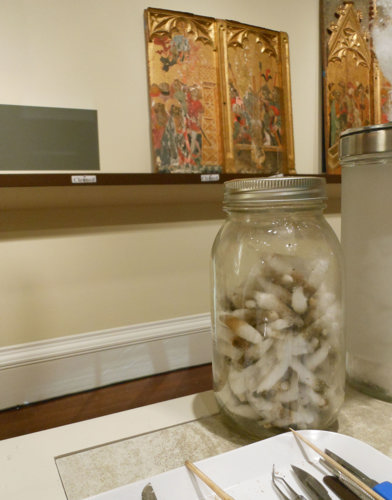 In-gallery conservation of the 15th century Spanish altarpiece, Retablo of Saint Peter, continues into its eighth week, with about half of the eighteen of the paintings having been cleaned.  Most of the later varnishes, waxes, overpaint and over-gilding was removed using hand-rolled swabs.  To clean, cotton wool swabs are soaked with one of several chemical solutions then rolled over the surface of the painting.  Decades (or centuries) of grime are removed at the same time.  Above is a shot of the jar used to remove and receive the used cotton tips.  This leaves the pointed bamboo swab stick free to be rolled with clean swatch of cotton wool.  Each evening the swab jar is emptied into the 5-gallon yellow safety can.  It's almost half full at this point.  Stop by to see the cleaned paintings and learn more about paintings conservation before "Conservation on View: Zaragoza's Retablo of Saint Peter" ends on April 24th.