"Hokusai Updated" at the Mori Art Center, Tokyo, Japan (Now–March 24, 2019)
The special exhibition "Hokusai Updated" is now open at the Mori Art Center in Tokyo, Japan. The exhibit, which runs January 17–March 24 2019, is based on the research of Professor Seiji Nagata. It will be the most comprehensive exhibition about this artist and includes masterpieces from the professor's extensive collection, many of which have never been on display before. The exhibition will feature a set of ten rare woodblock prints by Hokusai illustrating Kanadehon Chūshingura (The Storehouse of Loyal Retainers) and two paintings (left and right) from the Cincinnati Art Museum's collection.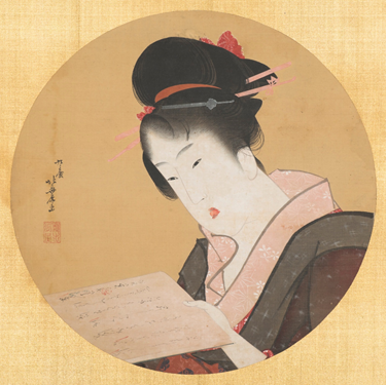 These works were first recognized by Professor Nagata in 1994. Upon viewing the prints Nagata commented with great excitement: "This is an exceptionally rare set and one I have never seen before. It is also unusual and interesting to have two different designs for Act XI."
The exhibition is be divided into two sessions, and the CAM works are prominently featured in both. I was also invited to write an essay for the exhibition catalogue. I am proud that our Museum's Japanese collection is increasingly being recognized in the world.
(left) Katsushika Hokusai (1760-1849), Sunflower, Edo period (1615-1868), 1848, ink and color on silk, The Thoms Collection; Given by Mrs. Murat H. Davidson in honor of her grandfather, Joseph C. Thoms, 1982.15
(right) Katsushika Hokusai (1760-1849), Woman Reading a Letter, late 18th-early 19th century, ink and color on silk, The Thoms Collection; Given by Mrs. Murat H. Davidson in honor of her grandfather, Joseph C. Thoms, 1982.14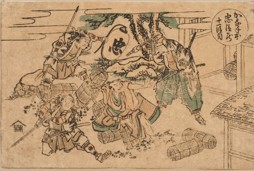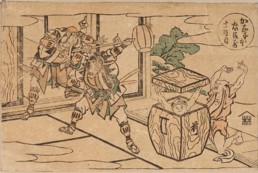 Katsushika Hokusai (1760-1849), Act XI, from the series The Storehouse of Loyal Retainers (Kanadehon Chūshingura), Edo period (1615-1868), circa 1805, color woodcut, Annual Membership Purchase Fund, 1909.29, 32