Wave Pool Gallery is proud to present Invisible Labor, an exhibition curated by Maria Seda-Reeder that investigates and celebrates the work of local art preparatory crews. Wave Pool is teaming up with local art handlers and preparatory crews from area art institutions to put on an exhibition that aims to make visible the labor and practice of building, installing and creating art exhibitions. Installation crews include the Carnegie Performing Arts Center, the Cincinnati Art Museum, the Contemporary Arts Center, Taft Museum, 21c Museum/Hotel and the Weston Art Gallery.
Please join us for the opening:
Saturday, November 17, 2018 at 6 PM – 9 PM
Wave Pool
2940 Colerain Ave. Cincinnati OH 45225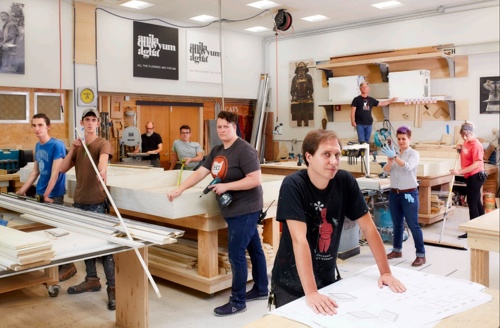 Photo Credit: Natalie Jenkins

Accompanying the exhibition is a 2019 Art Preparators of Cincinnati wall calendar. This calendar showcases all of your favorite art handlers, wall spacklers and pedestal builders. Amazing photos by Natalie Jenkins. Purchase your own calendar at http://www.wavepoolgallery.org/shop/2019calendar 

Funding for this exhibition was provided through an ArtSTART award from the Ohio Arts Council.