This pop-up will be on top of the Cincinnati Art Museum's exhibit The Total Look: The Creative Collaboration between Rudi Gernreich, Peggy Moffitt, and William Claxton.  Rudi Gernreich's fashion designs werr greatly influenced by Bonnie Cashin's work. Both use saturated colors and hardware and had a focus on liberating the woman's body.  Gernreich was inspired by Cashin's simple, comfortable, and yet stylish designs. Both Gernreich and Cashin looked to fashion as a form of art. Cashin has said that her designs are "simple art forms for living in, to be re-arranged as mood and activity dictates".  Gernreich believed similarly. Peggy Moffitt, the mod muse for Rudi Gernreich and the icon that made Sassoon's five-point cut her signature look has famously stated that "Sassoon is to hair what Picasso is to painting."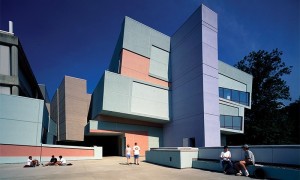 The pop-up event is being put on by a collaborative class offered at DAAP called Documenting a Fashion Icon: The UC Bonnie Cashin Collection.  This diverse class features real life experiences and utilizes each student's skill sets. These students have spent the semester preparing for the pop-up event and learning how to properly document and catalog UC's Bonnie Cashin Collection. They have digitized data of the collection including facts and images of the garments that were previously uncataloged and therefore undiscovered.  The pop-up exhibit is open to the public and is a great representation of the unique and classes UC offers. The exhibit will be open from 5 pm to 7 pm on Tuesday April 14, and will include refreshments and hors d'oeuvres. Show support for the future of the art and fashion community by attending this event. ​For more information, visit the Facebook Event page or the DAAP Bonnie Cashin Website.

Images courtesy of University of Cincinnati College of Design Architecture Art and Planning.