While you're enjoying all that Art in Bloom has to offer October 26-29, be sure to visit The Woman's Art Club of Cincinnati in the Dr. Kenneth and Barbara Kreines Gallery (Gallery 123) to experience fabulous floral-inspired artwork by local female artists. In honor of the esteemed club's upcoming 125th anniversary, this special feature showcases over 30 works in a range of media, reflective of the sense of experimentation at the heart of the organization.
Don't miss this rare opportunity to learn more about the history of art in Cincinnati and view cherished artworks – many on display for the first time. As you take in the impressive and varied display of artistic expression, keep an eye out for these five floral pieces.
Mary Spencer (1835–1923), Hollyhocks, 1897, oil on canvas, Gift of Benjamin F. Lehman and Winifred L. Hohlt in memory of B. F. Lehman and his uncle Milton Sayler, both residents of the Village of Sayler Park, Cincinnati, Ohio, 16/17.54:2
Say hello to these heavenly hollyhocks. Painted by the first president of the club, Mary Spencer, this large-scale oil painting portrays a picturesque scene teeming with the vibrant flowers. After seeing this piece in an 1899 club exhibition, a reporter raved that it was "one of the most beautiful pictures in the exhibit…suggestive of an immense field of hollyhocks of every color, from the rich reds to the most delicate tints of pink and white."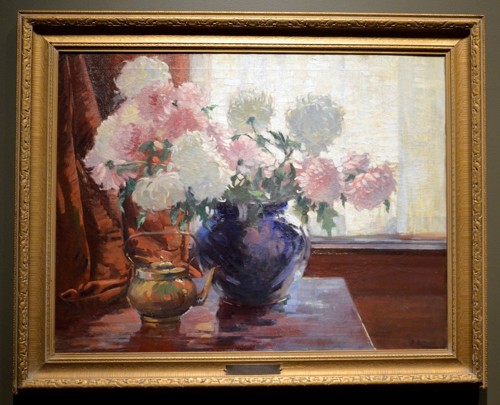 Bessie Hoover Wessel (1888–1973), Chrysanthemums, pre-1918, oil on canvas, Collection of the City School District of Cincinnati; made available to the Cincinnati Museum Center and the Cincinnati Art Museum, L15.2008:80
Check out these charming chrysanthemums. Bessie Hoover Wessel, president of the club from 1917–1919, skillfully captured these dazzling blooms basking in the sunlight. As the only work of the special feature that does not belong to CAM, this oil painting was gifted to the Cincinnati Public Schools in honor of Frank Duveneck, Wessel's mentor and professor at the Art Academy of Cincinnati.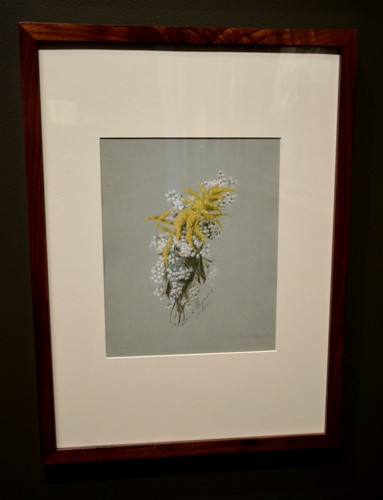 Carlotta Raymond (1851–1932), Goldenrod, late 19th century, watercolor and gouache, Gift of Dr. and Mrs. Sidney A. Peerless and family, 1996.427
Gaze upon this gorgeous goldenrod, painted by club member Carlotta Raymond. Although she worked with watercolor and gouache in this piece, Raymond's meticulous attention to detail in portraying this sprig of flowers and greenery makes the finished painting appear more like a photograph. Lafcadio Hearn, a notable art critic of the day, praised Raymond's talents, remarking, "The simplicity of these objects, drawn, as they are with a clear and delicate touch, give these studies a beauty and tenderness rarely met with."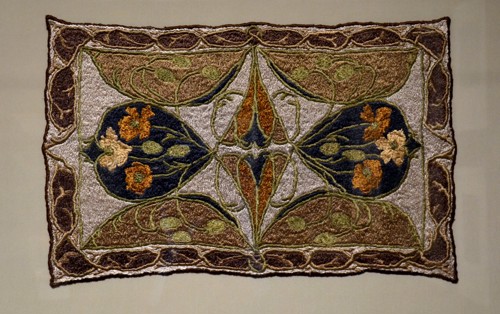 Mary Louise McLaughlin (1847-1939), Table Mat, 1920s, silk, Gift of Mrs. Howard D. Porter, 1971.26
This exquisite table mat was created by active club member, Mary Louise McLaughlin, who was known for her expertise in an array of media. Note the masterful embroidery work in the poppy motif that McLaughlin incorporated into this Art Nouveau-inspired design. The Woman's Art Club served as a platform for members to display and sell their work, and this particular piece is an example of an item that members would have offered for sale at exhibitions.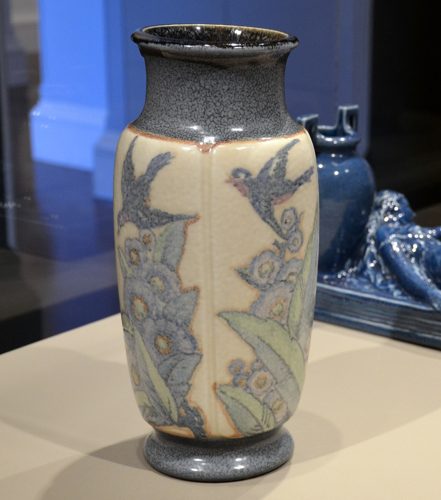 Vase, 1929, The Rookwood Pottery Company (est. 1880), manufactory, Lorinda Epply (1874-1951), decorator, porcelain, Butterfat and Wax Mat glaze line, The Rookwood Fund, 2001.39
This Art Deco-inspired porcelain vase was created by club member Lorinda Epply, one of the most prolific artists at The Rookwood Pottery, where she was active as a decorator between 1905 and 1948. The stylized treatment of the bird and flower motif, along with the cool-toned color palette of blues and greens, is highly characteristic of the Art Deco style of the time. Pay close attention to the semi-translucent glaze used in this particular vase. Known for her experimentation with a variety of glazes, Epply was inspired in this work by one frequently used by French ceramicists of the day.
The Woman's Art Club of Cincinnati is on view now through December 31. Free admission. More Information