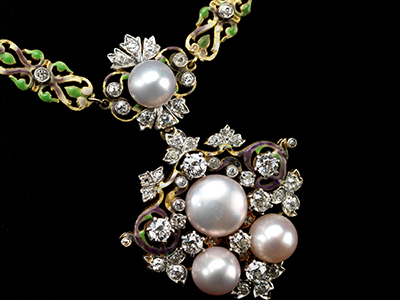 The Cincinnati Art Museum presents a stunning array of approximately 20 pieces designed by America's most important jewelry house, Tiffany & Co. Known for their superior design, superb craftsmanship, and use of the rarest and most beautiful gemstones, Tiffany & Co. earned its place among the top European jewelry design houses in the late nineteenth century.
Founded in 1837 by Charles Lewis Tiffany and Burnet Young as a fancy goods store, it soon became an internationally heralded jewelry and silver design house. By the late 1860s, it was able to count as its clients both prestigious dignitaries and well-known celebrities, including Queen Victoria of England, the Czar of Russia, the emperor of Brazil, the shah of Persia, Mark Twain, and P.T. Barnum. By the turn of the twentieth century, Tiffany's designs had won numerous gold medals at the world's fairs and universal expositions far outreaching its European competitors.
Tiffany & Co. is known for creating a purely American style of jewelry. Early designers, including E.C. Moore, Paulding Farnham, and Louis Comfort Tiffany, determinedly incorporated into their designs uniquely American gemstones, used unusual color combinations, and concentrated on direct inspiration from nature and indigenous American motifs. By the mid-twentieth century, Tiffany & Co. championed the cult of the individual celebrity designer. Jean Schlumberger, Elsa Peretti, Paloma Picasso, John Loring, and world-renowned architect Frank Gehry have each contributed their own distinctly personal vision.
This exhibition features Tiffany jewelry created by many of these renowned designers, including a unique diamond and pearl necklace made for the 1900 Exposition Universelle in Paris. Found in a private Cincinnati collection, it was thought to be lost. Coinciding with Tiffany & Co.'s tenth anniversary in Cincinnati, this exhibition celebrates superb design in jewelry.
Image: Detail, Necklace, 1900; Tiffany & Co. (established 1837); Collection of D'Elegante, Inc.; United States; Gold, enamel, diamonds, pearls