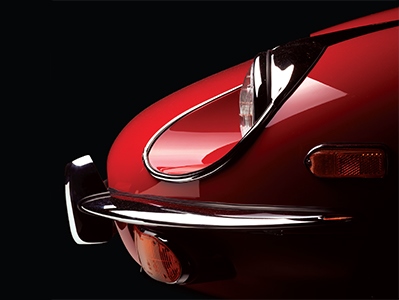 Considered one of the most elegantly designed automobiles ever produced, the 1969 Jaguar E-Type Series II Roadster is the fourth in a quarterly exhibit of an individual classic or concept car at the Cincinnati Art Museum.
Designed by Sir Williams Lyons, the E-Type Roadster displays the signature style and flair on which Jaguar built its reputation and brand. Lyons enlisted the expertise of engineer Malcolm Sayer, who applied his knowledge of mathematics and aerodynamics to create the E-Type's sensuous, rocket-like shape.
The 1969 Jaguar E-Type Series II Roadster is on loan from Stephan A. Locker.
Supporting the Cincinnati Art Museum's renewed commitment to showcase art and design across multiple disciplines, classic and concept cars will introduce visitors to industrial design and its place in the history of art.
Image: E-Type Series II Roadster; 1969; Malcolm Sayer (1916–1970), designer; Sir William Lyons, (1901–1985), designer; Jaguar Ltd. (est. 1922), manufactory; On loan from Stephan A. Locker, L6.2008