"I wanted to make work where the viewer wouldn't walk away; he would either giggle nervously, get pulled into history, into fiction, into something totally demeaning and possibly very beautiful." -Kara Walker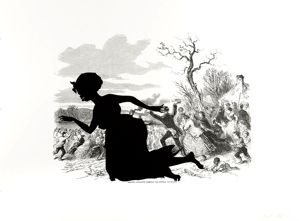 For over a decade, Kara Walker's work has evoked and satirized racial myths, slavery and gender politics. Along the way, Kara also imbeds her brand of cynical or sarcastic humor through the use of exaggerated caricatures to emphasize elements like race and positions of power.
Her trademark silhouettes appropriate the technique of eighteenth and nineteenth century cut-paper silhouettes, once considered woman's art. In Walker's hands, silhouettes create raucous figural processionals.
For this portfolio of fifteen prints, Walker takes as her point of departure the illustrated Harper's Pictorial History of the Civil War, published in 1866. Walker made photo offset lithograph enlargements of wood engravings from the two-volume original. She then overlaid these blowups with her solid black screen-printed silhouettes.
"…I am too aware of my overzealous imagination interfering in the basic facts of history. A collusion of fact and fiction that has informed me probably since day one…" -Kara Walker
Throughout her works, an interweaving of Southern antebellum nostalgia, Civil War iconography, and black racist stereotypes highlights the pervasive influence of Southern racial history and the history of black representation upon contemporary American culture. By distilling her images into black and white, she draws her viewers into the murky waters of the history of African Americans on this continent.
"I think my work sort of mimics the past, but it's all about the present…some great artist in the past, Courbet or somebody, said there's no historical art that isn't about present…" -Kara Walker
Kara Walker was born in Stockton, California in 1969. In 1991, she earned her BFA at the Atlanta College of Art where she developed an interest in southern antebellum nostalgia, and in 1994, earned her MFA from the Rhode Island School of Design. Her work has appeared in solo and group exhibitions in the United States and abroad. Notable solo venues include: The Walker Art Center, the Whitney Museum of American Art, New York, and the Hammer in Los Angeles. Her work has also been presented at The Metropolitan Museum of Art in New York, and the Tate Liverpool in England. She has received the Deustche Bank Prize and was the youngest recipient of the prestigious MacArthur Fellowship. Walker currently teaches at Columbia University and lives and works in New York City.
Exhibition Sponsor
GE Infrastructure – Aviation
Image: Kara Walker; Alabama Loyalists Greeting the Federal Gun-Boats. Harper's Pictorial History of the Civil War (Annotated); 2005; Offset Lithography and Silkscreen; 39 x 53 inches; Courtesy of the artist and Sikkema Jenkins & Co.