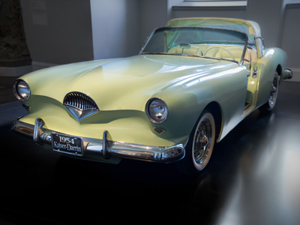 Go Retro. Come and celebrate the beauty of the limited-edition 1954 Kaiser-Darrin roadster.  This award-winning automobile will be on display at the Cincinnati Art Museum from August 22, 2012 to January 6, 2013. Its light green "pine tint" paint color, slick chrome details, and interior appointments further confirm the cruiser's place as an iconic design of the 1950s.
Designed by Howard "Dutch" Darrin, the Kaiser-Darrin was the first fiberglass-bodied American car, beating the Corvette to the market by one month.  Its light 300-pound body has low, long, sweeping lines.  Signature "Dutch" Darrin design features include sliding doors that glide forward and disappear into the front fender; a 3-position convertible top which can be opened, closed, or partially open to expose only the front seats; and a front grill which looks like a pair of puckered lips.

Winner of the 2012 Cincinnati Art Museum's Artistic Beauty Award at the Ault Park Concours d' Elegance, this car is not to be missed. One of only 435 examples made, it is on loan from Chick and Mary Steiner.
Image: Kaiser-Darrin, 1954, Howard "Dutch" Darrin (1897–1992), designer, Kaiser Motors Corporation (1945–1953), manufacturer, American, fiberglass body, On loan from Chick and Mary Ann Steiner, L12.2012