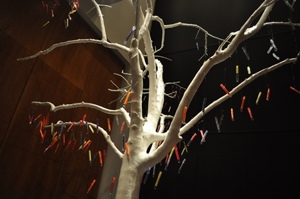 The Tree of Life is back and ready for your wishes for 2015! In its second year, the Tree of Life, on view Nov. 11 – Jan. 4, 2015, features a 19-year-old crabapple tree that has been transformed into a sculptural piece of art.
At 16 feet tall, the tree, created by local artist Matt Kotlarczyk, is a giant interactive exhibit that encourages visitors to place handwritten wishes for the New Year into glass vials that then adorn the tree, bringing it to life. The wishes from the Tree of Life will later be burned, and the ashes will be used to plant a new tree at the Cincinnati Art Museum in 2015.
Visitors are encouraged to make the Tree of Life their very own holiday tradition at the Cincinnati Art Museum. After sharing a wish on our Tree of Life, visitors can then shop for the perfect gift at our Museum Shop and celebrate the holidays in our Terrace Café.