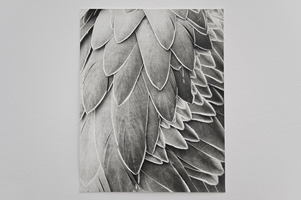 The first major U.S. museum exhibition devoted to the celebrated German photographer will be on view at the Cincinnati Art Museum. Trained as a biologist, Lempert photographs plants, animals, and other natural phenomena with both scientific acumen and a poetic appreciation of natural beauty. Lempert will be an artist in residence at the Cincinnati Zoo during Spring 2015.
Free admission. | View the Press Release
Image: Jochen Lempert, Untitled (Feathers), 2014, gelatin silver print, 20 x 15 3/4 inches. Courtesy of the artist and ProjecteSD, Barcelona.