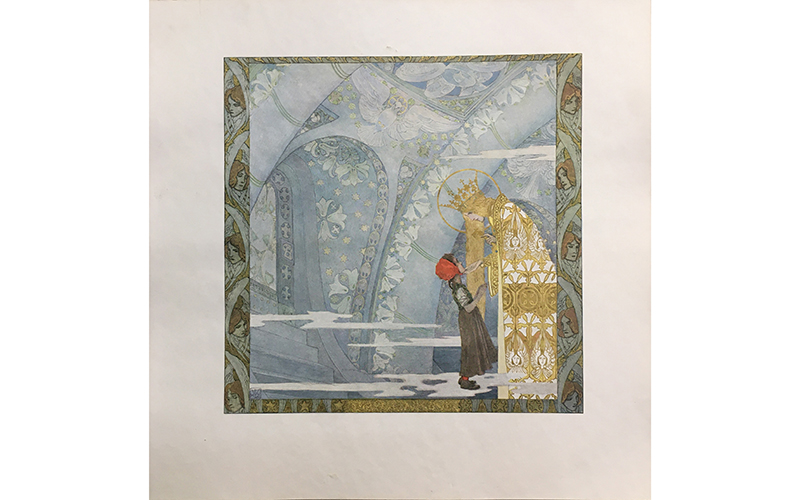 Joseph Urban, (American, b. Austria, 1872–1933), Heinrich Lefler (Austrian, 1863–1919), Mary's Child, 1911, chromolithograph, Cincinnati Art Museum, Mary R. Schiff Library, Gift of Mrs. Samuel Taft, 1924
---
Transcript
Hello, my name is Kiara Galloway and I am a Visitor Services Assistant at the museum.  I will be reading the Illustrations section in Unlocking an Art Deco Bedroom by Joseph Urban.
Illustrations were among Urban's earliest works. He is best remembered for those done in collaboration with his dear friend Heinrich Lefler. A professor at Vienna's Academy of Fine Arts, Lefler was an expert in the history of costume. Together, the artists created colorful, expressive drawings influenced by the fluid, nature-inspired style of Art Nouveau, or Jugendstil, as it was known in Austria and Germany. Lefler created the illustrations' figures while Urban produced their architectural backgrounds.
The prints shown here were made from some of the last watercolor drawings that Urban and Lefler completed before Urban moved to the United States. Illustrating fairytales by the Brothers Grimm and Hans Christian Andersen, they were featured in decorative calendars and children's books. Note the refined, modernistic details and bold colors that Urban incorporated in many of these scenes.
---