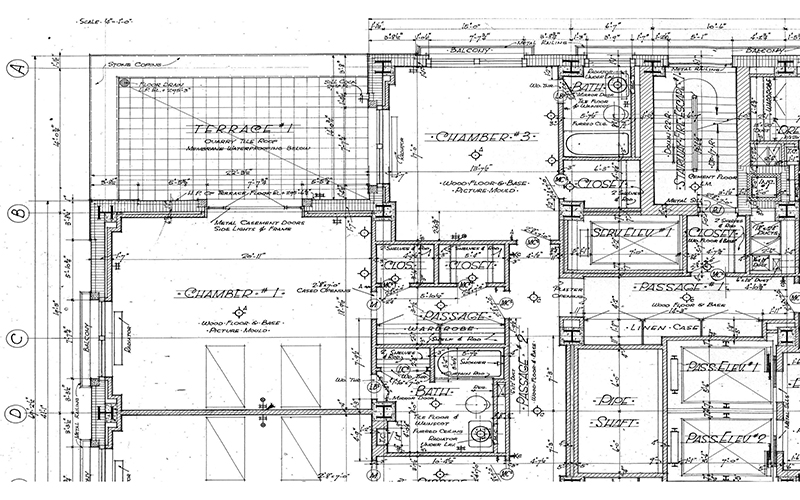 Blueprint of the Drake Tower's 27th floor, showing Elaine's bedroom.  
---
Transcript
Hello, my name is Emily Holtrop. I am the director of learning and interpretation at the museum. I will be reading The Penthouse section of Unlocking an Art Deco Bedroom by Joseph Urban.
The Wormsers' expansive 27th-floor penthouse apartment boasted four generously sized bedrooms, as well as separate quarters for three live-in domestic workers. Situated on the first setback of the skyscraper, the apartment had four large terraces offering panoramic views from the principal bedrooms and the living and dining rooms. Elaine Wormser's bedroom, marked as Chamber 1 on the plan, opened onto a terrace with views of Lake Shore Drive.
Aside from Elaine's bedroom, the rest of the Wormsers' apartment was designed in styles referencing the past. Elaine recalled the apartment as featuring a mix of eighteenth-century English furnishings and contemporary pieces in historical styles. Linenfold paneling lined the living rooms walls, and paintings of Venice decorated the dining room. "My father had exquisite taste," recalled Elaine. "He was one of the first people among our friends who bought English antiques." Leo Wormser's collection included the seventeenth-century mahogany dining table, sixteenth-century set of carved English Royal Arms, and walnut commode with marquetry inlay illustrated here, as well as the prints on view nearby.
---