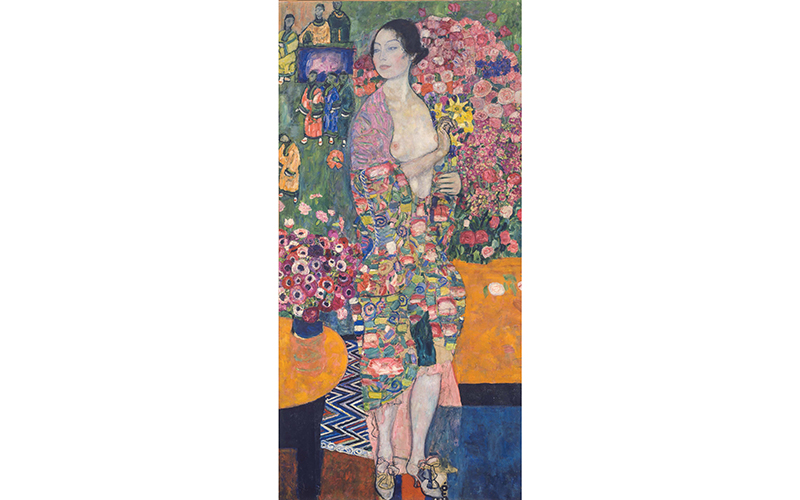 Gustav Klimt (Austrian, 1862–1918), The Dancer, circa 1916–18, oil on canvas, Private Collection, Courtesy Neue Galerie, New York
---
Transcript
Hello, my name is Destiny Brown and I am a Visitor Services Assistant at the museum. I will be reading The Role of the Dancer section in Unlocking an Art Deco Bedroom by Joseph Urban.
Visitors to Joseph Urban's Wiener Werkstätte of America showroom entered the venue's reception room and were greeted by the colorful and seductive painting The Dancer. Urban's placement of this late and unfinished painting by Viennese artist Gustav Klimt (1862–1918) was undoubtedly intended to instantly awe and intrigue his guests. It, and other works by Klimt displayed in the showroom, ultimately spurred a surge of Klimt mania in America. Of all the showroom's elegant spaces, the reception room, whose furniture is on view nearby, was the most discussed and reproduced by the media, extending The Dancer's appeal far beyond New York.
Letters from the period record Urban's own obsession with The Dancer. Urban's wife, Mary, noted, ". . . although unfinished, [it] is such a joy in color and composition, that Mr. Urban studies it for hours. . . ." Unwilling to part with it, he purchased the painting for his collection and commissioned reproductions of it to sell and incorporate in commissions. An oil-on-canvas reproduction was originally proposed for the Wormser Bedroom, but Leo Wormser felt it was too expensive and inappropriate. However, The Dancer likely served as a muse for the project, influencing both the room's aura and color palette.
---