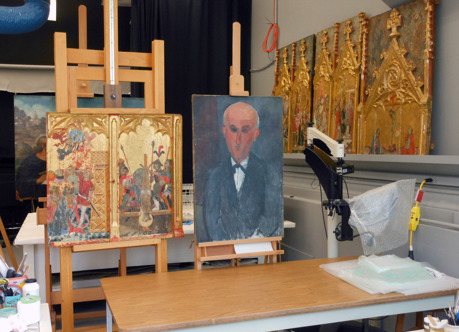 More odd couples in the paintings conservation lab!  These are two works that are in the middle of being treated.  On the right easel, Portrait of Max Jacob by Amedeo Modigliani, dated about 1916, has had its varnish removed and is awaiting a fresh coat.  On the left, a panel with two scenes from The Retablo of Saint Peter by Lorenzo Zaragoza, dated about 1400, is at the stage where losses in the gold background and frame are being inpainted with gold-colored pigments.  More retablo panels are visible at the right.  While the Zaragoza is a long-term, ongoing project, the Modigliani is just on a brief pause.  Our paintings conservator is consulting with colleagues across the country to determine what sort of finish the new varnish should provide.  The degree of glossiness and saturation will determine which type of varnish will be brushed on the portrait.  In the meantime though, these neighbors are an odd couple indeed.
Image Credits:
(L) Lorenzo Zaragoza (b. Circa 1340, d. Circa 1410), Retablo of Saint Peter, Circa 1400, tempera, gold and silver on wood, 116 3/4 x 108 1/8 in., Cincinnati Art Museum, The Edwin and Virginia Irwin Memorial, 1960.473.
(R) Amedeo Modigliani (b. 1884, d. 1920), Max Jacob, Circa 1916-1917, oil on canvas, 36 1/2 x 23 3/4 in., Cincinnati Art Museum, Gift of Mary E. Johnston, 1949.53.