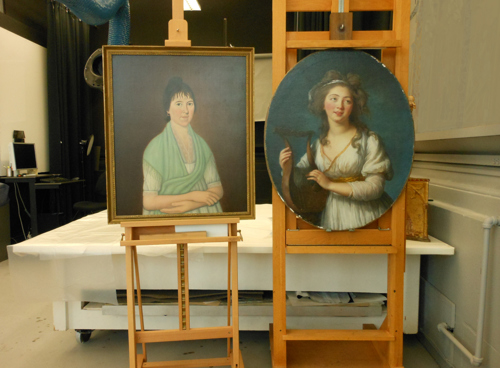 Here's another brief encounter by two ladies passing through the hands of our paintings conservator. On the left is a recent gift to the American art collection, Sarah (Sally) Perkins by John Brewster, painted around 1800-1809. She is having some minor cosmetic work done before appearing in our upcoming folk art exhibition, A Shared Legacy: Folk Art in America, opening June 10th. On the right is a painting by a French artist, Elisabeth Vigée-LeBrun, entitled Portrait of a Young Woman Playing a Lyre, from the 1780s. She is being examined in preparation for a loan to another museum's exhibition. These portraits were painted only about 20 years apart, but as you can see, the subjects lived in very different worlds, early 19th America and late 18th century France.    
Image Credits:
(L) John Brewster Jr. (American, b. 1766, d. 1854), Sarah "Sally" Perkins (Mrs. James Perkins, Jr.), circa 1800-1809, oil on canvas, 30 7/16 x 25 1/8 in. (77.3 x 63.8 cm.), Bequest of Joycelyn Bauer Norris in gratitude to the Cincinnati Art Museum, 2016.258. 
(R) Marie Vigee-Lebrun (French, b. 1755 - d. 1842), Portrait of a Young Woman Playing a Lyre, late 1780's, oil on canvas, 35 x 28 1/2 in. (88.9 x 72.4 cm), Gift of Emile L. Heine in memory of Mr. and Mrs. John Hauck, 1940.981.