This week in objects conservation: A pair of ceramic jars. These large jars are in rough shape and are currently in the lab for some major repairs. The foot of each jar was shattered and repaired at some point in the past. Unfortunately, the glue that was used has completely deteriorated, leaving the jars at risk of collapse. For storage purposes, both jars have a supportive mount to keep weight off the foot and ensure that the vases won't fall over if the adhesive fails.
The remaining old adhesive is removed through treatment with steam, allowing the adhesive to soften for easy removal without getting the ceramic body too wet and without abrasive action that could damage the edges. Once all of the old, deteriorated adhesive is removed, the rest of the surface will be cleaned to remove extensive overpainting that currently covers much of the original glazed decoration.
Next the foot will be reconstructed with a modern conservation adhesive before the final stage of treatment starts, which will consist of filling and inpainting losses in the ceramic body and glaze design.
Both Jars during treatment: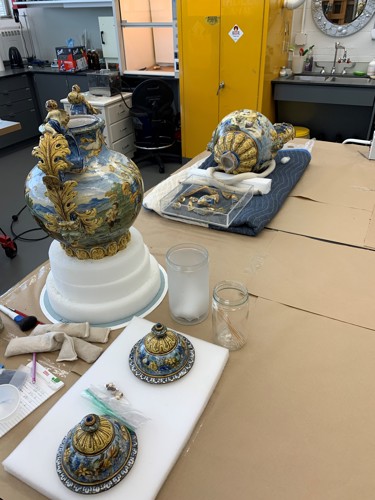 Jar with foot disassembled: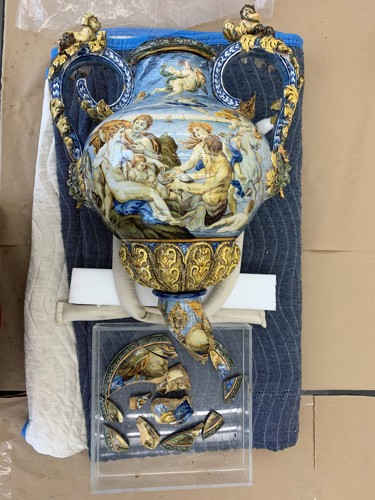 Jar and Cover, possibly ca. 1700, Italy, pottery, Lent by William Hooper, L2.1886.