Last shown at the museum in Masterpieces of Japanese Art (2015–16), the Japanese painting Illustration of Hell was selected for inclusion in Comparative Hell: Arts of Asian Underworlds at the Asia Society Museum in New York. This detail from the hand scroll shows a small section of the illustrated story about a sinner who moves to and from Hell surrounded by text written in elegant cursive calligraphy. The museum's hand scroll is the only known painting in the emaki (narrative hand scroll) format that depicts this story.
Given the fragile condition of the hand scroll, I traveled to New York to oversee its installation in the exhibition. This fourteenth-century painting on paper, like other scrolls, is stored rolled. The paper has a strong memory, causing it to roll back on itself if not restrained. I worked with the Asia Society preparators to safely place the scroll in the case, using an acrylic tube to provide support for the hollow roll of decorated paper and silk at the beginning of the scroll. The curve of the tube matches the curve of the scroll, so it does not create any stress. The tube is lightly pinned to the case to secure it in place. A flat acrylic bar holds the other end of the scroll open.
A larger portion of the painting is currently on view in New York until May 7, after which the scroll will travel to the Asian Art Museum in San Francisco and be on exhibit June 16–September 18, 2023.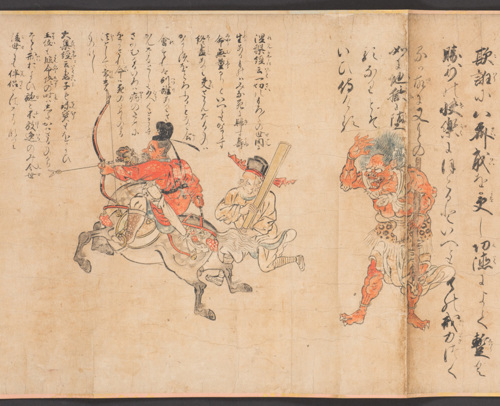 Unidentified, Illustration of Hell, Japanese, late 14th century, Namboku-cho period, ink, watercolor and gold on paper (hand scroll), Mr. and Mrs. Harry S. Leyman Endowment, 1987.1