A recent bequest of 20th-century American prints and paintings includes this view of Cincinnati by Laurence Sisson (1928–2015). Painted in watercolor with pen and black ink, the scene captures downtown buildings overlooking the Ohio River as Sisson saw them in 1954.
When the painting arrived at the museum, it was framed behind glass with an acidic window mat and brown paper covering the back. To accurately assess the condition of the painting—and to prepare it for storage and eventual display—I unframed it. Revealed was an acidic back board, made of cardboard, and more brown paper covering the back of the painting. Brown paper tape and masking tape attached the painting to the back of the window mat.
It is possible that the artist, not the framer, glued the brown paper to the back of the painting; but the desire for long-term preservation overrides the decision to keep evidence of what may have been the artist's original mounting method. When I removed the brown paper (which fortunately was glued only around the edges) I could see the back of the painting, moderately darkened by the acidic brown paper. The discoloration had not penetrated the front of the good quality watercolor paper. The paper's blank areas, highlighting parts of the scene, remain bright. (See the Taylor-Southgate Bridge in the left center.)
All components—glass, window mat, backboard, and paper dust cover—were used with good intentions by the framer to protect the painting. However, the poor quality of the materials made removing them imperative. Now that all have been discarded, the painting is safely stored in an acid-free folder, away from acidic papers and boards.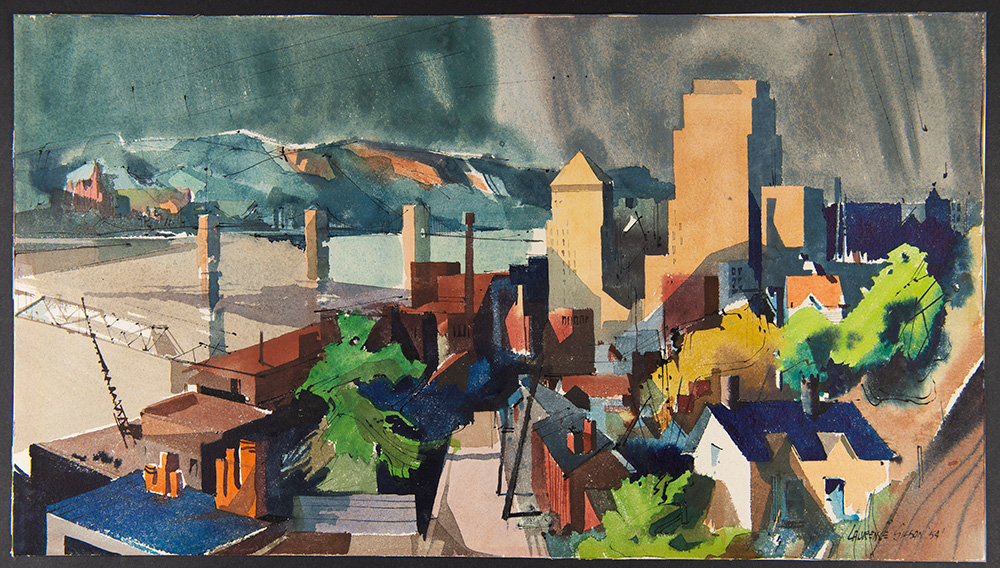 Laurence Sisson (American, 1928–2015), Cincinnati Skyline and Ohio River, 1954, watercolor, gouache and pen and black ink, Bequest of Virginia W. Brooks