In 2009 the museum received four prints after paintings by the British artist Francis Philip Stephanoff (1788?-1874) that portray attendees at the coronation of King George IV on July 19, 1821.  Even though they were printed within five years of each other on the same paper, 200 years later one print from the group now looks very different from the other three.  When the prints arrived at the museum one was glued overall to cardboard with animal glue.  The other prints in the group had been glued only around the edges to cardboard.
 The view of the back of The Lord High Chancellor of Great Britain shows a paper that is yellow-brown in contrast to the cream-colored paper of the print next to it on the table.  Apparently the yellow animal glue on the back of the print contributed to more severe discoloration.  Most of the glue has already been removed, and the darker color is staining of the paper itself. 
Our paper conservator's challenge is to remove enough yellow discoloration from the paper so that it is closer to its original color and more closely matches the other prints in the group.  Not seen in the picture is watercolor that colorizes the figures and their costumes.  The color complicates the treatment because some of the colors are still water soluble.
The hand-colored prints by Edward Scriven, Samuel William Reynolds I, and Henry Meyer were once in the home of Elaine Wormser Reis, whose Art Deco bedroom is the focus of Unlocking an Art Deco Bedroom by Joseph Urban, opening in July.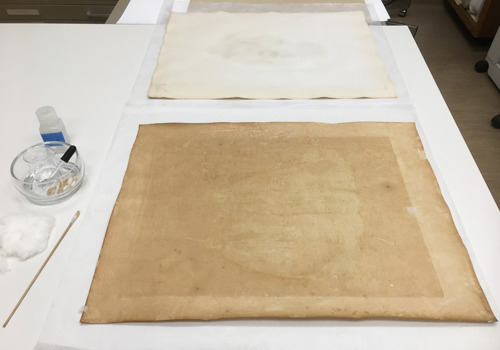 Samuel William Reynolds I, printmaker; Edward Scriven, printmaker; after James Stephanoff, The Lord High Chancellor of Great Britain, hand colored stipple engraving, 1821-1824, Gift of Mary Reis Sullivan, John Reis, and Dick Reis in memory of their mother, Elaine Wormser Reis, 2009.234