This life size painting by 19th century American artist, Thomas Satterwhite Noble, is a recent acquisition.  In need of cleaning, it had a brown highly textured surface.  The paint is very thickly applied and, in many passages, layers of dark paint underneath the surface paint are exposed through gaps in the brushwork.  The technique and the dark tonality are characteristic of Noble's work, but the brown hue is the result of the coatings having discolored.
Our paintings conservator has started removing the discolored varnish and embedded grime, beginning with the monkey in the upper right corner.  As expected, the overall dark tones remain, but the intensity of the colors is much more visible, as in the monkey's red costume.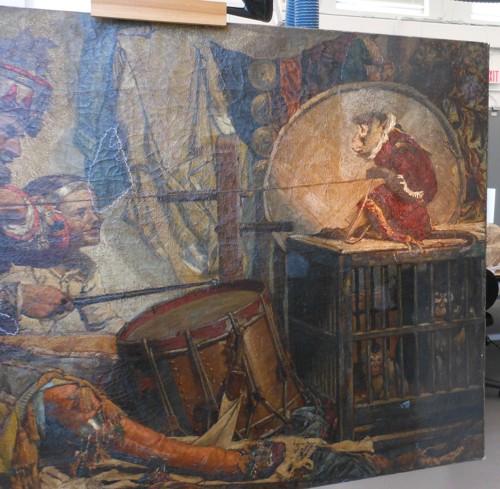 The painting entered our collection without a frame.  Once conservation is completed, and a new frame is acquired, the brighter-but-still-dark-toned painting will be installed in the galleries. 
Thomas Satterwhite Noble (1835-1907,) Rebellion in a Sideshow, 1900, oil on canvas, Gift of Mary Louise Glass and Jan Olsen Garretson in memory of William W. Garretson, 2017.173