The Museum's newly renovated Schmidlapp gallery opened to the public this past Thursday. When the museum chose to unveil this new space, it did so with a display of new work by the collaborative team of artists, Curtis Goldstein and Matt Lynch. Lynch and Goldstein are creating a series of mosaics inspired by Cincinnati Union Terminal's "Worker Murals" created by artist Winold Reiss in 1933. Goldstein and Lynch constructed their mosaics from many intricate pieces of laser- cut Formica laminate. Evoking the spirit of the original artwork, Lynch and Goldstein selected Cincinnati industry as their primary subject matter. Eye catching to the installation crew were the brilliantly colored lifts, ladders and trucks common to the preparator (someone who prepares exhibitions) or any trades person.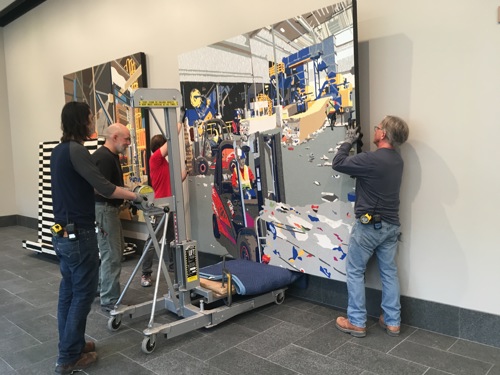 The artworks arrived to the museum by truck, just prior to opening the new gallery. Since the mosaics were too tall for our loading dock, the pieces were tilted at an angle on a specialized cart constructed by the artists in order to fit them through the door. The works then traveled up the museum's freight elevator and through museum galleries on A-frame style painting carts.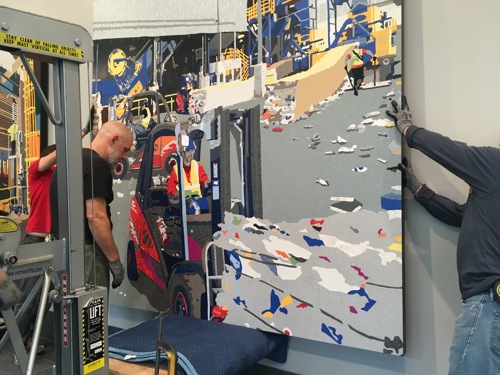 The artists constructed the work using French wooden cleats as the method of hanging. With an elevation plan provided by the exhibition designer, the preparators screwed the bottom half of the cleats into position on the gallery wall. After that, the installation crew was ready to hang the work.  A person was positioned on each side of the mosaic to help stabilize the artwork as it was lifted into place and hung on the receiving cleat, with the aid of crank lift. The process was repeated for each of the six mosaics on display. We invite you to visit the new Schmidlapp gallery at the Cincinnati Art Museum, and see these exciting works in person.