Days after I arrived at the museum in Spring 2017, I noticed a familiar name on a membership list for CAM's Friends of Photography affinity group. Nancy Rexroth. My heart skipped a beat because in 1977 a photographer by the same name published a unique, captivating, and now rare book of photographs.
The book, called Iowa after the artist's memories of childhood visits to relatives there, was shot mostly in the small towns of Southeastern Ohio and entirely with a low-tech plastic camera. Yet it was virtuosic in technique and totally coherent in its evocation of the joy, sadness, and longing lodged in four o'clock Appalachian light. It was the kind of book that changed the way photography lovers could imagine the expressive possibilities of the medium.  It stuck with people. In fact, scratch the surface with a contemporary photographer and you are liable to learn that although they haven't talked about it for a long time, they still look for Iowa whenever they find themselves in an old bookstore. (Iowa has since been republished in a new edition and is now widely available, fortunately.)
I had never met the artist, and I was not alone in the photography world in thinking she had disappeared from the face of the earth after publishing one, beautiful, arresting book—almost as if there could be nothing more to say. But could this Nancy Rexroth possibly be the same person, still in Ohio?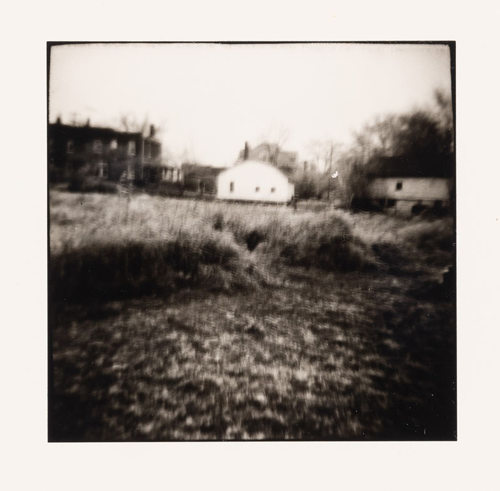 Nancy Rexroth (American, b.1946), First Day of Winter, Albany, Ohio, 1974, gelatin silver print, image 2 3/4 x 2 3/4 in. (7 x 7 cm), Cincinnati Art Museum; The Nancy Rexroth Collection: Museum Purchase with funds provided by FotoFocus Art Purchase Fund, 2019.240. © The 1988 Rexroth Family Trust
Fast forward a few weeks and I had received both a phone call from Martin Weinstein, the Minneapolis gallerist who has been looking out for Rexroth since the late 1990s, and a letter from the artist, who has indeed been living in Cincinnati for several decades. It was the beginning of an ongoing conversation and friendship. It was also the beginning of a discovery: Rexroth not only had master vintage prints of all her Iowa work but an archive spanning her entire career, including early, late, and unseen work, negatives, contact sheets, and papers. Realizing the archive could enable a completely new account of Rexroth's creative life and contribute to a reshaped understanding of key decades in American photography, the museum proposed an ambitious acquisition. The moment of this writing marks a crucial closing phase of a multi-year process to acquire the archive that will create The Nancy Rexroth Collection at the Cincinnati Art Museum. While we seek final funding to complete the acquisition, plans for research, conservation, exhibition and publication are underway.
In the meantime, you can learn more about Nancy Rexroth, her work, and her archive by joining me and several esteemed guests for a special online event on Thursday, April 8th, 2021 from 8-9 p.m. EDT.  CAM will premiere a short film created by museum staff to introduce Rexroth and the archive to wider audiences, followed by Light on IOWA, an intimate conversation with Rexroth created by Cincinnati filmmaker Ann Segal.  Segal and Rexroth will join me for a virtual Q&A to conclude the hour.  All are invited to attend this free online event, but registration is required in order to receive viewing instructions. Please visit cincinnatiartmuseum.org/rexroth for details and to register.