Often friends tell me how much they admire the fact that I have decided to be a docent at CAM. This has truly been a wonderful decision in my life. I constantly learn and enjoy the interaction with young children and grown-ups. I will give you two examples.
At our January program dedicated to visitors with Alzheimer's "Memories in the Museum" the joy of a lady who told me repeatedly how happy she is having found someone her height (I'm only 5 ft) made our day. She smilingly told me each time that she used to be a ballet teacher:  "I was this tiny teacher….."  She saw me in the role of a teacher and that brought back many happy memories.  That day "Memories in the Museum" got an extended meaning.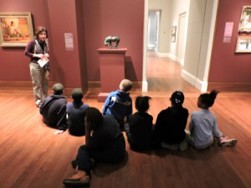 Recently I was assigned to do a tour from 11:00 till noon; these little first graders had already done a self-tour the hour before. I was preparing myself to have a group of tired and hungry children. We started the tour with the usual introduction, what we would do, and covered briefly the rules and regulations. I told them at the end – as I always do – that my favorite rule is 'Participation'; and that an artist creates what his or her feelings say and so shall they tell how they feel when looking at an art piece. I let them know that it is perfectly ok if someone does not like the piece while the other loves it. All I can give are some guiding points. As usual I ended my introduction with: "Ok, now let's have some fun! All in agreement?"
We looked and discussed the pieces which were chosen for the tour; before the last stop I looked at my watch and said: "Oh dear only 5 minutes left."  At that moment one of the girls looked at me with her beautiful eyes and asked in a disappointing voice: "Is this finishing?"  I responded: "Yes; did time fly?"  All I saw were 10 nodding heads. This kind of a response is the highlight of a tour for a docent.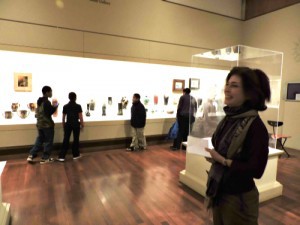 There are many such highlights; such as, now and then, getting hugs from the children while saying goodbye. It makes me aware that the experience at the museum was not just a learning experience for the brain, it was also an experience for the soul; and I love every minute of it