Evenings for Educators is the museum's monthly teacher development program. Each event features two teachers (one Elementary and one Secondary) who create and implement a lesson plan in their classroom. Attendees get a copy of that lesson plan in their folders the night of the program and also have the chance to ask the Museum Teachers questions. Each lesson references artwork from the museum's permanent collection, ties into the theme of the program and incorporates visual art with another discipline. Please enjoy this sneak peak of the Secondary lesson plan by Museum Teacher Sue Diemer.
September 21st, 2017 Museum Teacher: Sue Diemer
My high school students tend to struggle with abstract, non-representational projects.  "What is that?" sort of sums up the students' thoughts when they look at organic, abstract art work. 
This was the mindset when we began the organic pinch form project.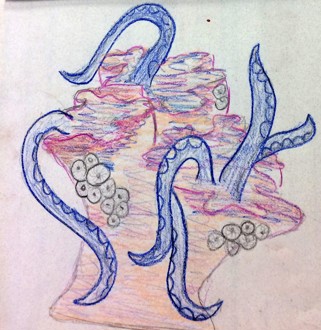 We looked at Ana England's work and at many other abstract 3D forms.  I had taken a Brenda Tarbell workshop this summer and implemented some of her forms and concepts into our conversation as well.
In order to help them identify with something 'realistic,' the students were inspired by an animal or a plant as they sketched out their organic idea.  If the sketch was identifiable as an animal or a plant, they were redirected to alter their image to make the sketch more abstract. 
Having a variety of skill levels can be challenging if the students haven't gotten excited about the project.  Well, we had already spent some time with the pinch form, they understood pressing in texture, as well as adding pieces to create texture.  And texture and attachments were key to adding interest in this project.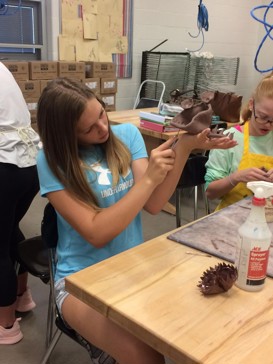 Ideas definitely changed as the students began to develop their pinch forms.  "Is it OK if I change what I sketched?" is often asked as they get into their projects.  Of course, as long as your new idea is better than the original one :).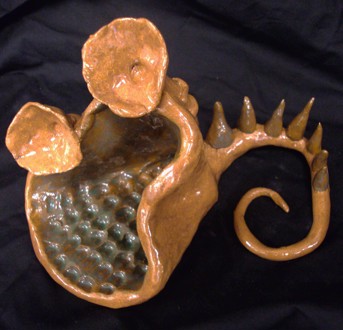 When we finally got to glazing, the students were directed to use 'earth tones', with a variety of browns, tans and natural greens.  Although some would have preferred bright yellow, the majority embraced the natural palette.  Success is measured by their desire to take the projects home as soon as they are out of the kiln!