May 12, 2012 four Tiffany Studios stained glass windows will go on permanent display at the Cincinnati Art Museum. A recent acquisition, the windows have been undergoing conservation for the last year.
Tiffany developed a technique called plating where numerous pieces of glass are layered to create depth, shadows, and to manipulate colors viewed in transmitted light. The Art Museum's windows contain up to four layers of glass. During conservation, it was necessary to partially disassemble the windows in order to remove layers of thick coal soot from the surface of each piece of glass. Cleaning the glass is an important step in preventing deterioration, but it also allows one to see the colors that Tiffany intended.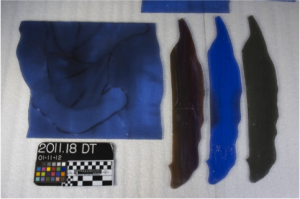 Plated layers before cleaning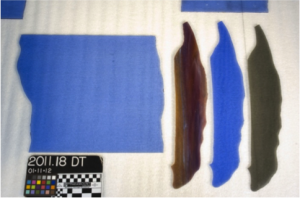 Plated layers after cleaning
During conservation we counted how many pieces of glass were in each window. One window alone had more than 580 pieces of glass!
Come see the exhibition! Not only are the windows absolutely stunning, but you can learn more about plating and other techniques used by Tiffany Studios and the conservation process.
-Megan Emery, Associate Conservator of Objects