Did you know that the Museum's permanent collection is always growing? Each curator is continually on the lookout for just the right objects. Our minds juggle and tabulate running "wish lists" of artworks that we hope to add to the collection—pieces that fill gaps, or bolster existing strengths of the collection, or take the collections in completely new directions. I'm thrilled to report on a few new and exciting acquisitions to the decorative arts and design collection that fulfill some of these wishes.
Several months ago, I received a phone call from a local couple inquiring about an odd-shaped Tiffany "vase" they had inherited. Their "vase" turned out to be a stalactite hanging shade, circa 1900, which was missing its original hanging hardware. It was part of a larger collection of twelve works by Tiffany Studios that had been purchased by a relative employed in Tiffany's foundry. The couple was delighted to learn about the Art Museum's early and well-documented collection of favrile glass, purchased directly from Tiffany in 1897 and 1898. Upon realizing that their stalactite shade and another vase from their collection represent types of Tiffany glass not present in the Museum's otherwise comprehensive collection, they generously decided to donate their Tiffany to the Art Museum. Work is currently underway to commission reproduction hanging hardware for the stalactite shade, and we hope to have these new works on view in the future.
Another thrilling gift came through a casual conversation with a museum supporter about an upcoming exhibition of folk art titled A Shared Legacy: Folk Art in America, to be hosted by the Art Museum in 2017, and our hopes to supplement the exhibition with extraordinary examples of folk art from local collections.  The man revealed that he had an early weathervane—a form not currently represented in the Art Museum's folk art collection—that his family had brought to Indiana, in the 1850s, from Pennsylvania. Formed from sheet and wrought iron, the weather vane represents a bold rooster. Fanciful, exuberant, scrolling elements define the vertical rod supporting the regal bird. Such an early, well-documented, unique weathervane is a coup for the Art Museum's collection.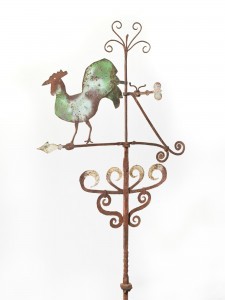 Weathervane, circa 1780, sheet and wrought iron, Gift in honor of the Ohio County Historical Society given by Clifford William Theis, 2015.166.
Now on view in Gallery 126, you will see a remarkable, life-size, glass sculpture of a dress produced by Karen LaMonte in 2005. This new addition was purchased through the generous support of donors Nancy and David Wolf. The Wolfs, who have donated over 200 works to the Museum from their private collection, challenged us to find a work that augmented and added new perspective to their collection, now housed at the Museum. LaMonte's poignant and masterful work adds a key piece by a well-regarded female contemporary artist. Exploring ideas of beauty, femininity and transience, it speaks to ideas shared across our collection, from contemporary glass to costume history to classical antiquity.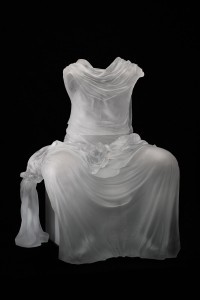 Karen LaMonte, Seated Dress with Impression of Drapery, 2005, cast, sandblasted and etched glass, The Nancy and David Wolf Collection, 2016.2, ©Karen LaMonte. Photo Credit: Martin Polak.
We are grateful to current and past donors who have made excellent and strategic acquisitions like these possible for the Art Museum and our visitors.
Image credit lines:
Tiffany Studios, Vase, circa 1900, glass, From the John Becker Collection, Tiffany foundry employee; Gift of Cynthia and Stephen DeHoff in memory of the Becker, Anderson, and Pickens families, 2015.142.