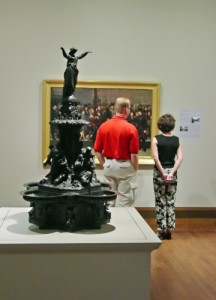 Can you look at one artwork for ten minutes without distraction? Each year, Slow Art Day challenges museum goers worldwide to do just that! Participants in this international event look at five works of art for ten minutes each and then meet to discuss their experience. The goal is to focus on the art and the art of seeing. When people look slowly at a piece of art they make discoveries. This year on Saturday April 11th, the Cincinnati Art Museum will be hosting a Slow Art day program and discussion! The events are all free, we recommend that you RSVP or join the facebook event! Feel free to participate in all of the events, or discover by slow looking on your own! Ask about Slow Art Day at the front desk on April 11th to get the special Slow Art Day Map and Program. Use #SlowArtDay to share your experience on social media.
Below are the four artworks we will be discussing at CAM's Slow Art Day.  The fifth artwork is up to you!
Felix Gozalez-Torres, Untitled
Bernardino Mai, Alexander the Great and the Fates
John Francis, Basket of Fruit
Donald Judd, Untitled
You can visit these artworks on your own with the self- guided tour from 11-1 pm, or join the staff guided tour at 12 pm in the front lobby.   At 1pm, be sure to join the discussion in the Rosenthal Education Center and share your Slow Art Day experience!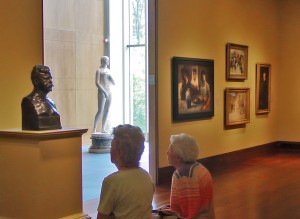 Here are some questions to ponder while you're looking.
1. What's your initial reaction to the work of art?
2. How does the work make you feel?
3. What do you think the intention of the artist is?
4. Did your thoughts about the work of art change while you were looking at this artwork?
Although the discussion ends at 2pm, you are welcome to look slowly throughout the day!  We have other activities that can enhance your visit and help you look more carefully at the artwork in the Cincinnati Art Museum's collection. There is a tour of Masterpieces of Japanese Art at 2pm and there is an In Depth Gallery talk on textile conservation at 2pm.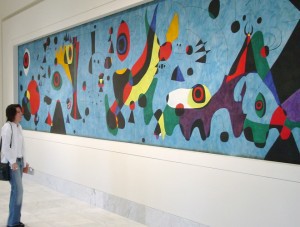 CAM is excited to participate in this worldwide event, and we hope that you can join us for a day of looking slowly, discovery, and sharing! 
For more details about Slow Art Day, check out our calendar page, call 513.639.2971 or email [email protected].