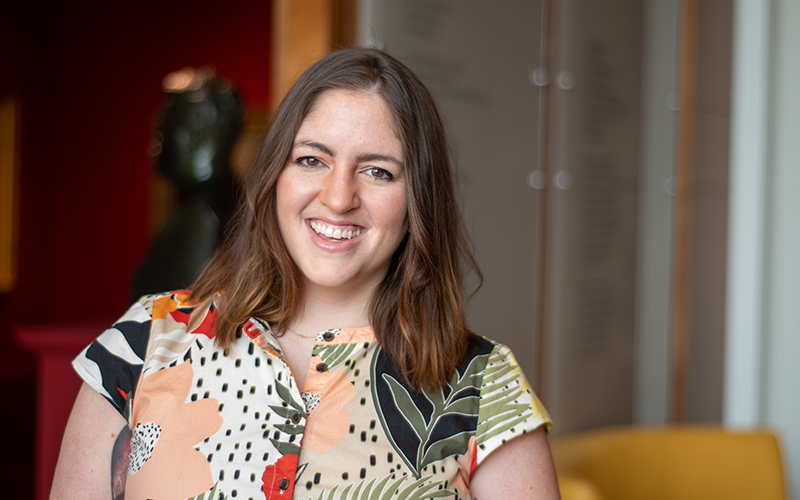 Did you attend a lecture at the museum in the past year? Perhaps your favorite young person attended our summer camp in 2022. If the answer to either is yes, then you may have had the great opportunity of meeting Haley Perkins, a newer member of the Learning & Interpretation team.
Haley joined the museum in spring of 2022 and jumped into eight weeks of summer camp management. Over the last year, she has put her mark on many of the public programs you enjoy at the museum.
Haley and I chatted about her lifelong love of art and museums and what excites her about working at the CAM.
EH: What is your role at the museum? How will our visitors see your work?
HP: Visitors will see my work in almost any special public program or event that relates to an exhibition or something in the museum's collection. I work closely with museum colleagues and community members to create programs and learning opportunities that enhance the exhibition's message and help visitors discover something new about an artist, artwork, or even themselves. For example, I organize exhibition lectures, art-making workshops and classes, and with my colleague, Sara Birkofer, we plan CAM Kids Days and Summer Camps, to name a few. I am always on the lookout for a new program we haven't tried before, too!
EH: What are you most excited about in your position? Area of the collection, particular audience? New program?
HP: In my position now, I am most excited about the opportunities to work collaboratively with my colleagues in my department, in curatorial, and across the museum to develop new programs. In my role, I'm in the position where I get to be curious all the time – and that's very energizing!
I am very excited about the museum's encyclopedic collections. I am a modern and contemporary art fan at heart, but it is very intriguing to have the whole gamut to work with for programs. There are fewer limitations and more ways to be imaginative!
The primary audience I've worked with in museums has been young people, so I'm always excited to work with children, especially preschoolers. Still, I am very enthusiastic about building a larger teen audience here. We have recently seen a tremendous outpouring of support for the 10x10 Teen Expo team. I want to see what new programs we can build to put this momentum and energy for the next generation of museumgoers to good use.
EH: What is your next big adventure in your role at the museum?
HP: My next big adventure at the museum is concentrating on logistics for Summer Camps (which are just around the corner) and executing programs for the end of 2023 and early 2024! The curators, my other department colleagues, and I have been cooking up exciting programming to provide new ways to connect with the museum for all ages!
EH: What is your favorite work in the collection, and why?
HP: My favorite work in the collection…hmm, there is more than one!
One of the first pieces that caught my interest in the collection was Hymen by Maria Oakey Dewing and Thomas Wilmer Dewing. I am intrigued by the idea of collaboratively working on an artwork with someone you love (perhaps it's because I'm impressed two artists can get along in such a way!) I also really enjoy that the painting itself isn't quite perfect, and you can see the artists' hands in the brushstrokes and where they changed the placement of the figure in some places. The layering of the figure over the background creates an ethereal effect like the figure is almost in motion, yet they are present, strong, and confident. I know the artists took turns painting each layer, but I like to picture them painting together, side by side, laughing.
However, as a contemporary art admirer, I am a huge fan of Beth Lipman's Still Life with Flowers in Gallery 205. I appreciate her use of a nontraditional art form of glass to create a traditionally recognized still life in three-dimension. To me, her work begs the question, what do objects mean to us once we can't use them anymore? Kind of meta when you think about it in overall terms of a museum, right? Plus, its current installation in the Baroque gallery creates a dramatic disruption to the traditional paintings of the time, and that is just the type of thing that allows for great conversation to take place! Why is this here? How can I relate to it? What would these artists think of it? I find it very captivating.
I also love that the museum has a Nick Cave Soundsuit in the collection, though it's not currently on display. I can't wait to see it eventually!
EH: What is your first museum memory?
HP: My first museum memory is hard to pinpoint, but I remember my parents, my dad especially, regularly taking us to historic houses and living history sites, like Sauder Village in Archbold, OH. My earliest memories of collections and "old stuff," as I might have said as a child, come from antique malls and auction houses. My parents owned an antique selling and rehab business. They regularly carted the whole family around the tri-state area, often visiting Allen, MI, where their antique booth was. While my mom took inventory and stocked new treasures, my older sister and I had to find ways to play carefully in the antique shop (luckily, there was a random petting zoo as a part of the antique mall). I greatly credit growing up in the antique business and watching my parents' enjoyment of antiques for where my appreciation of collecting, preserving, and learning about the past came from.
EH: What made you want to pursue museum education as a career?
HP: I wanted to pursue Museum Education because I needed a unique workplace that kept me curious, gave me the freedom to teach how I wanted, with hands-on tasks, and had something new for me every day. My first degree is in Art Education, so I initially thought I would be an art teacher. I loved working with young people, I loved artmaking, I loved learning about how people learn and watching how my plans and research would unfold in the classroom, but during my student teaching, I didn't find pleasure in the rest. It just didn't click for me like I thought it would! Museum Studies as a major was starting to catch on at the time, and coincidentally my school had a Museum Studies program. After student teaching, I declared a second major in Fine Arts to work towards a Certificate in Museum Studies. I pursued an internship at The Children's Museum of Indianapolis during my final undergraduate year, and I found my calling there. Ultimately, I worked there for almost two years after my internship. It was exciting to play not just with children every day but also with their families; to facilitate family learning and observe how families interacted with a museum collection was intriguing. I wanted that every day!
EH: You are new to Cincinnati; what have you discovered about the Queen City in the last year?
HP: After living in the much smaller city of Tallahassee, FL, it's really refreshing to be in a bigger city with a thriving art community and more museums to visit! I miss the nature of Florida, but I enjoy having more things to do all over the city; plus, there are still parks and trails here, too!