Join us for a Pop to Present themed Summer Camp Next week from Monday July 6 through Friday July 10 from 9-4;.  For each of the 8 weeks of Summer Camp, we'll provide a sneak peek into one project campers will be creating! Check our blog for weekly updates!
It's easy to get caught up in the past when your art collection goes back 6,000 years, but this week's Summer Camp is all about the Present. For Pop to Present, we're going to be looking at some of the most contemporary works in the Art Museum, from the pop art of the 1960s to the video art of today.
For this project, we will be looking at the iconic "Atman" sculpture by Mark di Suvero that welcomes museum visitors as they arrive. This giant, red sculpture is made of simple geometric shapes, and so we are going to build sculptures out of squares and triangles. By mixing regular white glue with corn starch, we can create a thick, fast-drying paste that is perfect for holding together the lightweight foam-core shapes. Just like Mark di Suvero, our summer campers will also get to paint their sculpture whatever color they like.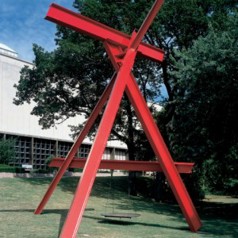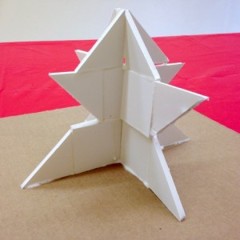 Materials for this project:
-Foam-core (cut into shapes)
-White glue
-Corn starch

Check out how it's made!

Register for Pop to Present by calling 513.721.ARTS.Summer Camp participants must be registered by the Wednesday prior to the week of Summer Camp that they wish to attend. Summer Camp is designed for ages 6 – 12.  Prices: Members: $175 (per child/week); General public: $225 (per child/week); Before Care: $6/day; After Care: $10/day