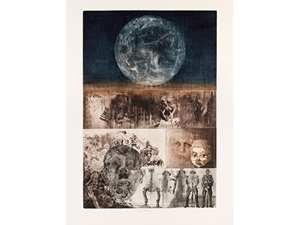 Beginning Sept. 27, the Cincinnati Art Museum presents the first major U.S. retrospective exhibition of the work of esteemed living Czech artist Jiří Anderle. Working in spite of political oppression and censorship behind the iron curtain, Anderle has created a varied body of work that explores fundamental issues facing mankind. The exhibition Illusion and Reality: Prints by Jiří Anderle, organized by the Cincinnati Art Museum and on view Sept. 27 through Jan. 4, 2009, features four decades of his gripping work.
"Anderle pursued printmaking with strength and will as a means of survival –both mental and physical," said Kristin Spangenberg, curator of prints and drawings. "This exhibition gives visitors an opportunity to see these provocative and highly personal works created by one of the greatest Czech artists."
The exhibition leads visitors on a journey through the experiences normal human beings face. By fabricating strange characters that symbolize larger themes, Anderle explores the struggle between good and evil, past and present, life and death, illusion and reality, and love and hate. The conditions are the subject of series in Anderle's work, which he refers to as cycles. The exhibition includes 100 prints (1960‐1990) from the Cincinnati Art Museum's permanent collection, recognized today as the largest repository of Anderle's works in the U.S.
Throughout Anderle's cycles, visitors see references to his diverse background. They incorporate his passion for music, literature, and theater. His years as an actor with the Black Theatre of Prague gave him the opportunity to travel outside Czechoslovakia, a privilege rarely granted by the government. Eight years of this nomadic life gave Anderle an international perspective of the art scene. He experienced different cultures and found inspiration from 20th century artists including the work of Paul Klee, Jean Dubuffett, and Francis Bacon.
As Anderle reached his middle aged years, he positioned his works to explore the subject of youth, beauty, and life itself. He graphically transformed youth and beauty in Vanitas VI (1983) by depicting progressive aging and a shadow of death – a flawless face of youth gives visitors a sense of the passage of time.
Like other Czech artists, Anderle received exceptional training in printmaking, drawing, and composition. He studied at the School of Applied Arts, Prague from 1951 to 1955, and the Prague Academy of Fine Arts from 1955 to 1961. Today, Anderle is recognized for his innovative use of mezzotint as a creative tool. His volumetric shapes that seem to move in and out of space through tonal transitions are seen in Eye of the Tortoise (1986) and Conversion (1966) from his Skinless cycle.
The Jacques Baruch Gallery, owned by Jacques and Anne Baruch, first introduced American audiences to Anderle's work. Beginning 1969, they presented eight exhibitions featuring his various cycles. They recognized that, although isolated from the mainstream art world and living under restrictive systems of communism, Prague's artists were creating provocative work. The Baruchs worked to promote Anderle's work, as well as other Eastern European artists throughout the U.S., helping place them within the history of contemporary art.
The Baruch's commitment to Anderle and his work afforded him international recognition. Anderle won the Grand Prix at the 1981 International Biennial of Prints, Ljubljana and his prints were exhibited at the 1982 Biennale di Venezia. In 2006, Anderle received a good medal from the President of the Czech Republic for his contributions. In 2003, Galerie Anderle devoted to his work opened in Prague where he continues to work and live.
Anderle's gratitude and compassion for the Baruchs extends into his artwork. Included in the exhibition is Cruel Game for a Man (1975), commissioned by Anne Baruch in honor of her husband, a Holocaust survivor. Visitors can see Anderle's skillful references to the Nazi past and indirect references to the communist present.
The Cincinnati Art Museum also recognized Anderle's skill for creating a penetrating body of work. In 1973, curator Kristin Spangenberg met the Baruchs and was introduced to the work of several Czech artists including Anderle. Today, the Art Museum is a major venue for the study of Czech printmakers, as a result of a major gift in 2005 from the Anne and Jacques Baruch Collection.
Duke Energy is the associate sponsor for Illusion and Reality: Prints by Jiří Anderle. Additional support has been provided by Skip Merten and The Merten Company. The Cincinnati Art Museum extends a special thanks to Fine Arts Fund partner, The Cincinnati Insurance Companies.
Illusion and Reality: Prints by Jiří Anderle remains on view Sept. 27 through Jan. 4, 2009 at the Cincinnati Art Museum. Admission is free. The exhibition is accompanied by a fully illustrated 176‐page catalog available in the Museum Shop for $45. Call (513) 721‐ARTS for more information.
Image: Jiří Anderle (Czechoslovakian, b.1936); Cruel Game for a Man (1975); Print, color drypoint and mezzotint à la poupée; image 36 1/4 x 24 3/8 in. (92 x 62 cm) on sheet 41 5/8 x 30 7/8 in. (105.7 x 78.5 cm); Gift of Anne and Jacques Baruch; 1976.332