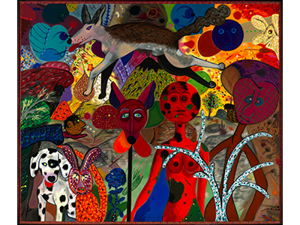 The Cincinnati Art Museum will present Isn't It Great To Be An Artist?: Insider/Outsider Art from the Robert A. Lewis Collection, a major exhibition showcasing contemporary art from outside the mainstream, from January 31 through April 26, 2009. The exhibition will display 114 key works from the Robert A. Lewis collection, representing a wide range of styles and media, and spanning the period from the 1960s to the present. In 2007, Chicago native Robert A. Lewis promised a major bequest of more than 400 paintings, sculptures and works on paper from his remarkable collection of works by self-taught artists and trained artists who broke from convention. Lewis's gift to the Cincinnati Art Museum includes works by a diverse group of American artists, with two areas of particular focus: the work of Chicago artists and of folk artists from the South, many African-American.
At the forefront of Lewis collection are the Chicago Imagists, a loosely affiliated group of figurative artists whose work emerged in an era dominated by abstraction. Looking to cartoons, comic books and folk art for inspiration, artists like Roger Brown, Ray Yoshida and Karl Wirsum offered an alternative to the New York art world, which they deemed stuffy and pretentious. The exhibition also highlights the work of some of the most celebrated American folk artists, including Mose Tolliver, Reverend Howard Finster, Minnie Evans and Clementine Hunter; in addition to major examples by the art-school educated Donald Lipski and Roy De Forest.
"Robert Lewis has shown tremendous generosity in promising his collection as a future gift to the Cincinnati Art Museum," said Julie Aronson, curator of American painting and sculpture. "The Lewis Collection will greatly deepen our collection of contemporary art and expand our representation of folk art and African-American art. We look forward to sharing these compelling works with our visitors through the special presentation of Isn't It Great To Be An Artist?"
For over 60 years, Lewis explored art museums and galleries near his home in Chicago and introduced himself to the city's vibrant arts community. He collected works from artists across the country and began collecting in the late 1960s, when the Chicago Imagists first gained notoriety and when a renewed enthusiasm emerged for indigenous folk traditions and works of art. The Lewis Collection bequest will establish the Cincinnati Art Museum as an essential resource for these notable artists.
Image: Roy DeForest; Triumph of the Round Heads, 1982; Future bequest of Robert Alan Lewis; L12007:226