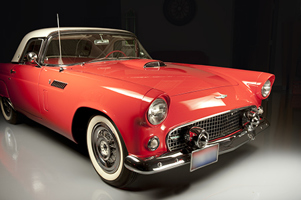 Americans stationed overseas during World War II fell in love with many of the sleek European sports cars that they encountered there. When they returned, and when the economy recovered, they began to import these foreign cars. American car makers, motivated by designs that emphasized speed and minimalism, as well as by consumer demands for these imports, quickly launched plans to develop their own version of the sports car.
Introduced in 1954 and named for the Native American mythological bird with supernatural power and strength, Ford's Thunderbird gained immediate popularity for its athletic looks and its smooth, powerful performance. While it shared some styling characteristics with its Ford siblings, like a modest tailfin and single circular head and tail lights, its faux scoop hood and a 150 mph speedometer inferred its aptitude for speed.
The 1956 Thunderbird is the rarest of the first-generation models. Unique features to this model include "port-hole" windows in the lift-off top for increased visibility, and the repositioning of the spare tire to a continental-style rear bumper. This example is finished in the Ford factory's "Fiesta Red".
Image: Thunderbird, 1956; William P. Boyer (1926–), designer; Ford Motor Company, manufactory (1903–); United States (Detroit); Steel body; Courtesy of John Rogers, L9.2010