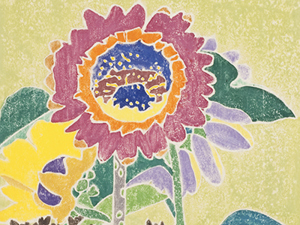 Pink chrysanthemums, a burst of fuchsia and a rural Kentucky inn's tall, lanky handyman. These were just a few snippets of nature and natural character captured in the prints and woodcuts of Edna Boies Hopkins, an artist who called Cincinnati, Paris, New York City and Provincetown home at various points in her creative life.
"Her gay little wood block prints are the quintessence of modern color and design," Cincinnati Times Star, 1915.
Shown by the Cincinnati Art Museum in 1914 and 1917, Edna Boies Hopkins: Color Woodcuts highlights a selection of Hopkins' work ranging from Japanese-inspired woodcuts and boldly colored modernist prints to landscapes and figurative subjects.
At a time when travel was savored mainly by a fortunate few, Hopkins managed to combine her art with a journeying lifestyle. Not many women of the day could say they had studied ukiyo-e woodcut techniques in Japan, but Hopkins could, having made a stop there during her grand honeymoon tour with her new husband, fellow Art Academy of Cincinnati artist James Roy Hopkins.
"Since there is no subterfuge in the color print vocabulary, they must say perfectly what they have to say." Edna Boies Hopkins, Causerie Artistique, 1916.
Born in Michigan in 1872, Hopkins attended the Art Academy of Cincinnati from 1895 to 1898. Her studies in 1899 with Arthur Wesley Dow, an advocate for Japanese art, may have whetted her appetite for the technique that would ultimately help form her signature. Having settled in Paris until the outbreak of World War I, Hopkins returned to America in 1914 where she experimented with landscapes for the first time and joined a group of printmakers in Provincetown, Massachusetts who had developed white-line woodcuts.
Though eventually plagued by arthritis, Hopkins remained unstoppable, continuing to travel and study. Her prints received national and international recognition until abstract art became dominant after World War II. Today, with bold color and simplicity, they are proving their enduring importance.
Exhibition Sponsor
The Women's Committee of the Cincinnati Art Museum
Fine Arts Fund Partner
Cincinnati Children's Hospital Medical Center
Image: Edna Boies Hopkins (American, b.1872, d.1937); Sunflowers Against a Green Ground, detail (1915-1916); Museum Purchase; 1918.25