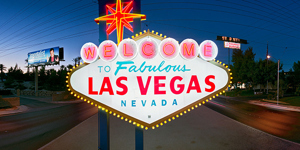 Explore the work of local fine art photographer Thomas Schiff, who here trains his panoramic camera on the gaudy, grand, and grandiloquent world of Las Vegas. Schiff creates impossible, disorienting visual spaces that play with the inherent contradictions of place. The spectacle of excess and the illusory "American dream" collide in these shimmering prints that reflect the decadent surface of this desert megalopolis.
Organized by the Cincinnati Art Museum.
Image: Thomas R. Schiff (United States, b. 1947), Fabulous Las Vegas Sign (detail), 2006, digital c-print, © Thomas R. Schiff. All rights reserved. Used by permission.