Conservation on View: Zaragoza's Retablo of Saint Peter
January 26, 2016 - April 24, 2016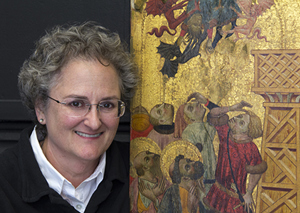 Cincinnati Art Museum's Chief Conservator and paintings conservator Serena Urry will be on view cleaning The Retablo of Saint Peter. The Spanish altarpiece, attributed to Lorenzo Zaragoza, dates to around 1400.  Its 18 painted panels show scenes from the life of Saint Peter on a rich gilded background.  Progress in the conservation treatment will be visible over the course of the exhibit.  When Urry is not present, a video describing the cleaning will run.
Free admission | View the Press Release
This exhibition is generously supported by the James J. and Joan A. Gardner Family Foundation and the Wohlgemuth Herschede Foundation.
Image: Serena Urry with Lorenzo Zaragoza (Spanish, b.Circa 1340, d.Circa 1410), Retablo of Saint Peter, Circa 1400, tempera, gold and silver on wood, The Edwin and Virginia Irwin Memorial, 1960.473