The Book of Only Enoch and The Jackleg Testament, Part I: Jack & Eve
September 24, 2016 – February 26, 2017
Galleries 124 -125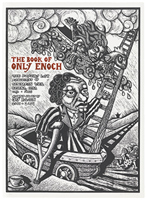 Jay Bolotin's The Book of Only Enoch is a portfolio of 20 prints made from a combination of woodcut and relief etching that narrates the tale of protagonist Only Enoch. The son of the only Jewish coal miner in Kentucky, Only Enoch is named after an apocryphal book left out of the Hebrew Testament.
Bolotin's motion picture The Jackleg Testament, part I: Jack & Eve, the winner of Best Animation at the 2007 Santa Fe Film Festival, will also be on view. Constructed from woodcut prints, the film tells a reimagined account of the story of Adam and Eve.
Based in Cincinnati and from Fayette County, Ky., Bolotin is a multi-media experimental artist whose work includes film, literature, music and theatre. Bolotin tells captivating stories through art. Represented by Carl Solway Gallery, his visual work is included in many public collections, including the Museum of Modern Art in New York, the Contemporary Museum of Art San Diego, Smith College Museum and the Cincinnati Art Museum.
Image: Jay Bolotin (b. 1949), United States, Title Page from The Book of Only Enoch, 2011-15, woodcut and relief etching, Gift of Kevin Ott and Museum Purchase: Anonymous Gift in memory of Helen Pernice, 2015.15:1, © Jay Bolotin 2015